Joel McHale Cast In Seth MacFarlane's 'Ted'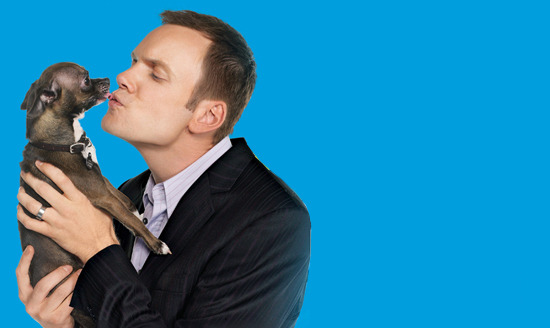 Briefly: Family Guy creator Seth MacFarlane is nearly set with the cast for Ted, which he wrote with Alec Sulkin & Wellesley Wild and will direct. Mark Wahlberg is a guy whose childhood teddy bear (voiced by Seth MacFarlane) came to life and continues to live by his side, but is a womanizing slacker. Mila Kunis is his girlfriend and Giovanni Ribisi is on hand as well. Now Community's Joel McHale has a role.Deadline says Joel McHale will be "Rex, the sleazy boss who is perpetually putting the moves on his employee (Mila Kunis)." I'm picturing something like being able to see Community's Jeff Winger in action in his own office before being suspended from practice, only with the addition of some skewed Seth Macfarlane humor and the freedom to be more lurid and skeevy. McHale should excel in the role.
We don't know much more about the film, but here are Mark Wahlberg's previous comments, which will be animated based on Seth MacFarlane's motion-captured performance.
I don't know how much [Seth] wants me to tell but it's about this kid who gets a bear for Christmas. And, you know, it's the '70s — it's one of those Teddy Ruxpin-ish teddy bears where you squeeze it and it says, 'I love you!' The kid wishes and dreams that the bear would come alive — and a Christmas wish must be granted — and it does [come alive].
Seth McFarlane's voicing the bear — the bear is gonna look like a little teddy bear, but it's motion-capture. It's like 'Avatar.' It's never been done before. It's insane — I mean, what the bear does.... The bear becomes famous, and that's my ticket to getting things and living a life of privilege.