James Franco Is 'Oz The Great And Powerful' For Sam Raimi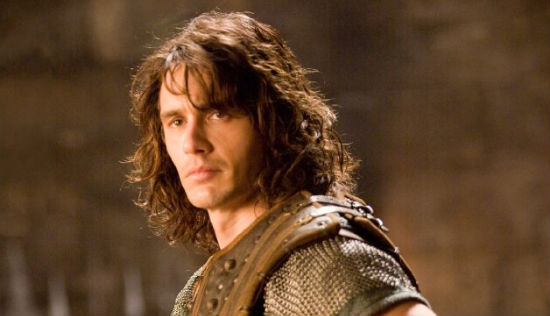 Director Sam Raimi has finally found his all-powerful wizard. James Franco just finalized a deal to star as the title character in Oz The Great and Powerful, Raimi's Disney 3D prequel to the classic 1939 film The Wizard of Oz. The role was originally going to be played by Robert Downey Jr., and then was offered to Johnny Depp, but Franco is ultimately going to portray "a young illusionist with a grandiose attitude who is forced to flee a traveling circus. His hot air balloon is swept up by a tornado to the land of Oz, which is run by two magical wicked witches." Read more about the film after the jump.
Deadline reported the news of Franco's deal closing, making this weekend quite the memorable one for the actor. Friday he signs a deal to star in the biggest movie of his career (sorry, Rise of the Apes), Saturday he premieres two brand new films that he created based on the film My Own Private Idaho by Gus Van Sant and Sunday he'll stand in front of hundreds of millions of people to hose the Oscars.Oz the Great and the Powerful is scheduled to start shooting in July and is rumored to star Mila Kunis as one of the wicked witches, though that has yet to be officially confirmed. Now that Franco as been cast, odds are that Disney will spill all the beans on the film very soon. The script is written by Mitchell Kapner and David Lindsay-Abaire.
And though Franco has been attached to pretty much every movie in town, him signing on to once again work with Raimi (the pair collaborated before on the first three Spider-Man movies) pretty much locks the actor up for the rest of 2011. Here's his shooting schedule, according to Deadline, which doesn't include his school work and press for Your Highness and Rise of the Apes:
He'll first star in the Noah Baumbach-directed While We're Young, and then will shoot Oz. That brings him to the late fall/winter, when he'll star in Sweet Bird of Youth, the David Cromer-directed revival of the Tennessee Williams play that will be produced by Scott Rudin. Kidman will play Alexandra Del Lago, the aging voracious movie star, while Franco will play her gigolo paramour Chance Wayne.
It's no slap in the face to James Franco to say that Downey Jr. or Depp would have been awesome in the role but he's more than a worthy hire. In roles from Pineapple Express to Milk and 127 Hours, Franco has exhibited a huge range that will surely make him both eccentric, and heroic, which is what the eventual Wizard of Oz needs. Are you happy with this casting?