Idris Elba, Sean Harris And Kate Dickie Added To Ridley Scott's 'Prometheus'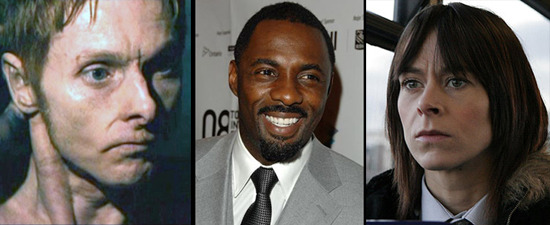 It's good to have a little actual news to report about Ridley Scott's Prometheus after a week of rumors about whether or not we'll see certain elements from Alien showing up in the film. The latest word is that three cast members have been added to work alongside Noomi Rapace, Charlize Theron and Michael Fassbender: Idris Elba, Sean Harris and Kate Dickie are all onboard.
Baz Bamigboye at the Daily Mail (via The Playlist) reports that the three have signed on, though roles aren't mentioned. Idris Elba should need no introduction at this point. Sean Harris has had some key, recognizable roles: playing Ian Curtis in 24 Hour Party People and Bob Harris in the Red Riding films, and he's got some genre movie experience thanks to Christopher Smith's film Creep, where he added some scary identity to the title character. Kate Dickie has been a reliable British indie drama presence for several years, with roles in Andrea Arnold's pre-Fish Tank film Red Road and The Pillars of the Earth.
Baz Bamingoye also reports that Ridley Scott said of Prometheus, "'I was insistent that the script not leak onto the internet, where it gets dissected out of context, which spoils it for everyone." Someone is talking, but we don't know yet how reliable the current rumors actually are.
While Michael Fassbender has said that the film is absolutely connected to Alien, Ridley Scott continues to maintain that Prometheus is not an Alien prequel. He does say:
It's the story of creation, the gods and the man who stood against them. It's not a small film.
Prometheus starts shooting withing a few weeks, so we'll get more cast news soon