'Miral' Trailer - An Israeli-Palestinian Saga By 'Diving Bell And The Butterfly' Director Julian Schnabel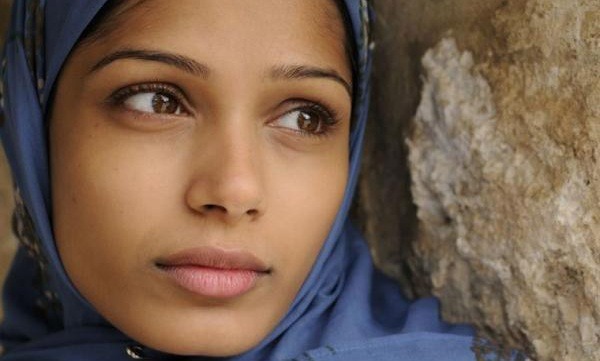 The Weinstein Co. has released a trailer for Julian Schnabel's Miral, starring Slumdog Millionaire actress Freida Pinto. The film covers five decades of the Israeli-Palestinian conflict, with Pinto playing a young woman who falls for a political activist (Omar Metwally, Munich) and becomes involved in the Palestine liberation movement. Watch the trailer after the jump.
[via TheMovieBox.Net]
Although this new trailer features slightly less violence and improper language, it otherwise looks pretty similar to the French-subtitled one we posted last summer — right down to the melancholy Tom Waits song that plays over the very end. Miral has since hit several film festivals, starting with Venice last year. It was originally scheduled to open in the U.S. last December, but has been rescheduled for a March 25, 2011 release date.
Disappointingly, early reviews for the film aren't looking too good — Miral currently holds a worrying 20% on Rotten Tomatoes. (Granted, that's out of only 15 reviews, but even the positive reviews seem less than enthusiastic.) The consensus seems to be that it's well-intentioned, but not well-made. Given the breadth of the subject, I wonder if Jebreal's book would've been better served as a miniseries.
Miral is based on a semi-autobiographical novel of the same title by Palestinian journalist Rula Jebreal. Schanbel became involved with the project when Jebreal sent him the book after the two met at a dinner in 2007. They began work on the film later that year, and became a couple during the course of the production. Schnabel has said in interviews that Miral has a personal significance to him: "Coming from my background, as an American Jewish person whose mother was president of Hadassah [the Women's Zionist Organization of America] in 1948, I figured I was a pretty good person to try to tell the story of the other side."Hiam Abbas (The Visitor) and Yasmine Al Masri (Caramel) also star in the film, as Miral's teacher and a prisoner, respectively. Vanessa Redgrave and Willem Dafoe appear in small roles.
Official synopsis:
From Julian Schnabel, Academy Award© nominated director of The Diving Bell and the Butterfly, Before Night Falls and Basquiat, comes Miral, the story of four women whose lives intertwine in the starkly human search for justice, hope and reconciliation amid a world overshadowed by conflict, rage and war. The story begins in war-torn Jerusalem in 1948 when Hind Husseini (HIAM ABBASS, The Visitor, Amreeka) opens an orphanage for refugee children that quickly becomes home to 2000 orphans. One of the children is seventeen year old Miral (FRIEDA PINTO, Slumdog Millionaire) who arrived at the orphanage 10 years earlier, following her mother's tragic death. On the cusp of the Intifada resistance, Miral is assigned to teach at a refugee camp where she falls for a fervent political activist, Hani (OMAR METWALLY, Munich, Rendition) and finds herself in a personal battle that mirrors the greater dilemma around her: to fight like those before her or follow Mama Hind's defiant belief that education will pave a road to peace.