Jake Gyllenhaal, Tobey Maguire, Garrett Hedlund, Others Up For 'The Bourne Legacy'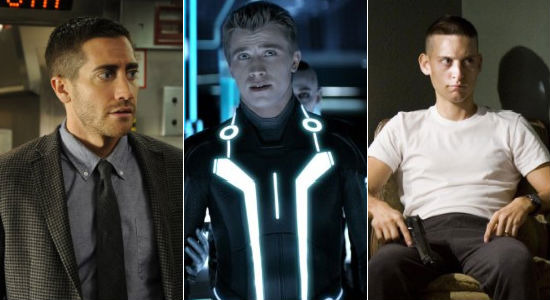 Oscar-nominated writer/director Tony Gilroy is looking for an assassin to replace Matt Damon's Jason Bourne in The Bourne Legacy, the fourth Bourne film, scheduled for release August 3, 2012. According to Variety, his list includes Jake Gyllenhaal, Tobey Maguire, Garrett Hedlund, Taylor Kitsch and Kellan Lutz. Deadline is reporting a much longer list though, which includes those names as well as Joel Edgerton, Josh Hartnett, Paul Dano, Michael Pitt, Oscar Isaac, Michael Fassbender, Luke Evans, Alex Pettyfer, and Benjamin Walker, though several might have scheduling conflicts. Read more about how Gilroy will come to a decision, and the film itself, after the jump.
In the Variety story, it says that Gilroy – who wrote the first three films – has a very good idea of what kind of actor he wants but that Universal also gave him their own set of names. The aforementioned list is reportedly little of column A and a little of column B. (And, if I had to guess, I'd say actors like Edgerton, Gyllenhaal, Maguire and are Gilroy's choices while people like Hartnett, Hedlund, Kitsch and Lutz are Universal's – just a guess.)
Variety also makes a point to say there's no guarantee that the role will go to one of those actors. Gilroy reportedly wants everyone to screen test (a deal breaker for some actors) and isn't opposed to casting an unknown, especially since the franchise title sells itself at this point.
No matter who gets cast though, the biggest hurdle for Gilroy will be winning over audiences who will be expecting Matt Damon as Jason Bourne in a movie called The Bourne Legacy. According to Gilroy's most recent comments though, this film will leave the door open for his return and take place in the same world as the other films. Bourne just won't be the focus this time around.
I'm not going to get into the plot, but you saw the other three films, you know everything that happened, and it's not a dream sequence. What I can say is, you thought that was the whole world, but it was a small piece of what was going on. Ultimatum exploded at the end with people arrested. We deal with that as a reality, it has ramifications that echo out into the larger world. And of course, Jason Bourne is still alive and out there in the world.
Out of the people on that list, who do you think most fits the role of a deadly, ass-kicking assassin? Also remember that, when The Bourne Identity came out, no one would have answered that question with the name "Matt Damon."
Additional Source: Deadline