VOTD: Profile Of A Foley Artist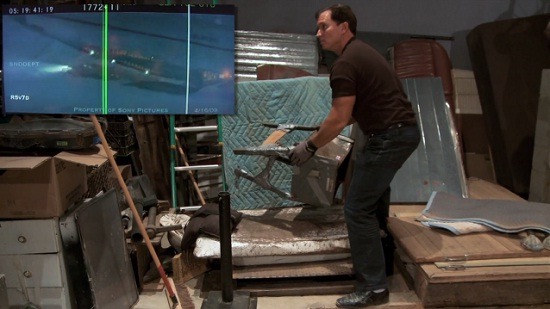 Most serious film fans have a good idea of the basics of foley work: sound engineers in a studio recreate (or, in many cases, simply create) all the incidental sounds that fill out the soundtrack of a film. Most of us have probably seen Ben Burtt talk about banging on high-tension wires to create laser sounds for Star Wars, or how he layered sounds and waved a microphone to create the signature lightsaber effects.
Creating all-new sounds is great, but most foley work is about recreating everyday sounds, and doing so in a way that can be mixed with flexibility and tuned specifically to the tone of a given film. So check out this video portrait of foley artist Gary Hecker, after the break.
Most of what we see here is work being done on Ridley Scott's Robin Hood, and as a result the film plays into the classic Monty Python gag of using coconut halves to mimic the sound of a trotting horse. There's a lot of time here spent on aspects of foley work that are probably familiar to many of you: the basics of creating sounds and the fact that performance plays a big part of making the recordings really work. But there is some time given here to how a foley track can be many different sounds, recorded individually, mixed and layered to create an appropriate soundscape. That got me thinking about how I might break down the sound of just being in a room doing normal work, and how the sounds could be recreated. It's a fun exercise, and it'll make you look at a film like 2012 (also seen in the film) in a different way.
The film's Vimeo page offers:
From "The Empire Strikes Back" to "Robin Hood", award-winning Foley artist Gary Hecker of Todd-AO says it takes "timing and a huge creative mind" to be the man behind the sound. Here, he shares tips and tricks he's learned during a career that has spanned more than 200 films.
Hecker also recently joined CSS Studios' Todd-AO in late 2009. One of the most accomplished Foley artists in Hollywood. Among his recent credits are 2012, The Taking of Pelham 1 2 3, Angel & Demons, Watchmen and the Spiderman trilogy.