'Beauty Day' Trailer, A Documentary About 'The Original Jackass'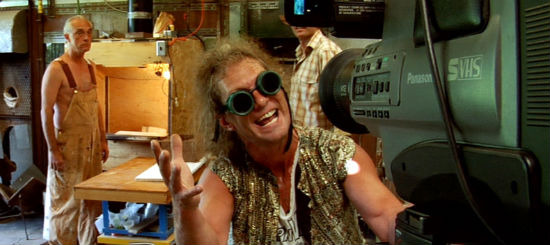 You had to think while MTV was making stars out of the guys from Jackass and Tom Green, there was a guy sitting at home thinking, "Hey, I did that years ago." There was and his name was Ralph Zavadil, the star of The Cap'n Video Show on Canadian public access TV from 1990-1995. On the show,  Zavadil basically brutalized his body for the audience's amusement years before that became cool or could make $50 or $60 million in a weekend at the box office.
In a new film called Beauty Day, filmmaker Jay Cheel has not only chronicled the rise, fall and cultural impact of The Cap'n Video Show, he was on the scene for the comeback. The film will premiere at the Museum of Modern Art in New York as part of their Canadian Front series next month but right now you can check out the trailer for the movie and more after the break.
Here's the trailer for Beauty Day.
Beauty Day Trailer from Jay Cheel on Vimeo.
And here's the plot description, thanks to the official site:
BEFORE THERE WAS JACKASS... BEFORE THERE WAS TOM GREEN... THERE WAS RALPH ZAVADIL. His cable access television show, The Cap'n Video Show, ran from 1990 to 1995, spawning a small but loyal cult following. Each week Ralph performed a series of idiotic and occasionally dangerous stunts, challenging the sensibilities of his small Southern Ontario audience. With the advent of the internet and reality television still years away, his unique brand of gross-out stunt comedy was truly ahead of its time. All it took was a broken neck for him to get noticed.
The film will be playing at MoMa in Manhattan on March 20 and 21. You can get all the information by clicking here.
I love when someone sends us a trailer to an independent movie they've made and it's actually good and makes me want to see it. Beauty Day is like that. Do you agree?