'The Hangover Part II' Teaser Trailer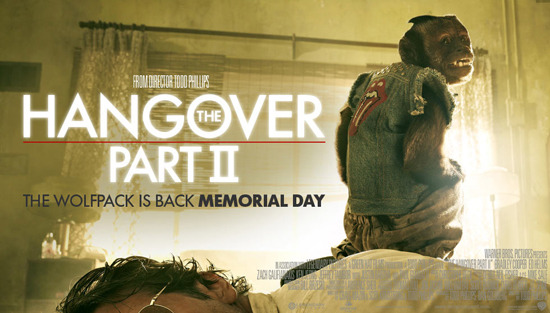 This is perhaps the most superfluous teaser trailer in the last few years. Kicking into gear with Jay-Z's track 'Reminder' and a host of quotes exalting the comedic value of the first film, this teaser trailer for The Hangover Part II asks with a smirk if we remember these guys, knowing full well that we do. And despite the fact that we don't need to be teased or reminded, it works. Plus, there's a monkey dressed like people! Check out the teaser after the break.
Beyond the reminder, this tells us that the Wolfpack will visit some of the less savory locations in Thailand, and that, yep, Ed Helms ends up with a Mike Tyson-style tribal tattoo on his face. But WB doesn't need to show us much more than that. I can't remember the last time there was this much interest in a comedy sequel, and you can bet the studio will make the most of that high level of interest.
Check out the teaser in HD at Apple.
In "The Hangover Part II," Phil (Bradley Cooper), Stu (Ed Helms), Alan (Zach Galifianakis) and Doug (Justin Bartha) travel to exotic Thailand for Stu's wedding. After the unforgettable bachelor party in Las Vegas, Stu is taking no chances and has opted for a safe, subdued pre-wedding brunch. However, things don't always go as planned. What happens in Vegas may stay in Vegas, but what happens in Bangkok can't even be imagined.