VOTD: Leonard Maltin Talks Oscars With Mike Tyson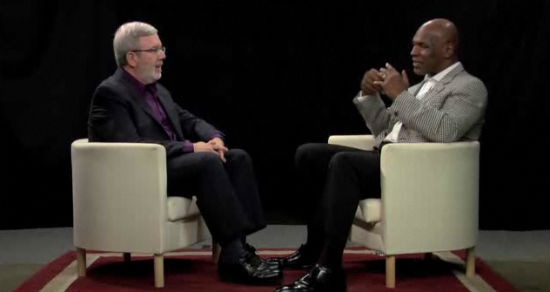 Mike Tyson knows his movies. He loved Halle Berry in Avatar, thinks that Friendster movie was awesome, Don King's Speech was annoying and that Meryl Streep deserves an Oscar for The Kids Are Here. And if none of that makes any sense, you are totally on board with the latest Funny or Die video which shows legendary film critic Leonard Maltin talking about the Oscars with the former undisputed heavyweight champion of the world, "Iron" Mike Tyson. Check it out after the jump.Thanks to Funny or Die for another funny video.
I think with about a minute of that video cut out, it could have really been great but, as it stands now, it's just another amusing Funny or Die video with really well-known people in it. However, if you've seen all the movies they discuss – such as Winter's Bone or The Kids Are All Right – there's a whole other layer of humor in just imaging Mike Tyson watching those movies and thinking critically about them.
On a related note, it's great to see that Tyson continues to embrace his pop-culture kitschiness. He was one of the greatest boxers to ever get in the ring, fell from grace after being accused of rape, but has since become an out-there, happy-go-lucky person with an insanely frightening dark side always right below the surface. It's why his cameo in the Hangover worked and probably why the cast and crew of that movie would have him, a convicted rapist, back for a sequel but not Mel Gibson, who hasn't come out to attempt and change public opinion about his actions.
If you want to learn more about Tyson, definitely check out James Toback's documentary: Tyson. It's pretty fantastic. Here's a trailer.