Paul Greengrass To Write And Direct 'Memphis' About Assassination Of Martin Luther King Jr.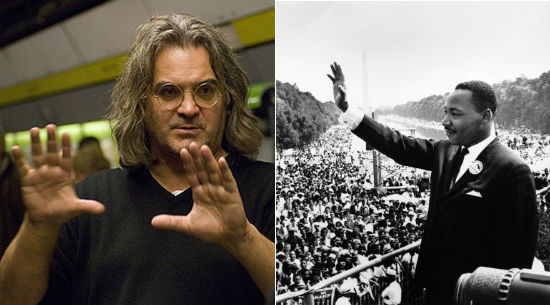 Paul Greengrass has finally made a decision as to what film he's going to make next. The director of The Bourne Ultimatum and United 93 took some time off after last year's Green Zone and had been considered to direct several projects including Fantastic Voyage, Cleopatra and Tales from the Gangster Side. Now it appears that earlier rumors were true and Greengrass will helm Memphis, from a script he wrote, which centers on the assassination of Dr. Martin Luther King Jr. Read what we know about this project and why it's perfect for Greengrass after the jump.Deadline broke the news of the deal, which sets the film up at Universal under producer Scott Rudin. But last month, Vulture first broke the news that Greengrass was writing the film and described it as follows:
It looks at King's life while trying to organize the city's sanitation workers in spring of 1968, just before his murder on April 4 of that year.
Several projects based on the late American icon have been in various stages of development, according to Deadline, but it seems that Greengrass's film, which could shoot as early as June, might be the first one out of the gate.
The question then turns to casting. Much like Timur Bekmambetov and Steven Spielberg have certainly had trouble with recently, how do you find an actor to play one of the most famous and recognizable people in the history of our nation? There are certainly plenty of great, well-known possibilities: Denzel Washington, Will Smith, Don Cheadle, Anthony Mackie, Morgan Freeman, Jamie Foxx, Terrence Howard and Forrest Whitaker immediately come to mind. Let the speculation begin.
As for Memphis as a project with Greengrass behind the camera, I agree wholeheartedly with what Russ said last month. This movie is right up Greengrass's alley, much more than those other films.
Of all the projects mentioned as options for the director this is the one that seems to be closest to his sensibilities. If it were a different sort of situation I'd say that it could also represent more of the same, but that would be to deny the obvious inherent challenge of creating a film chronicling the late life of one of America's most significant cultural and political figures. And while I'd like to see how the Greengrass touch might be applied to a film like Treasure Island, I'd much rather see him tackle something that would really let him dig into the subject. This could be the one.
Well said, sir. And now we'll get to find out.