James Franco Makes Two Movies From Unused Footage From Gus Van Sant's 'My Own Private Idaho'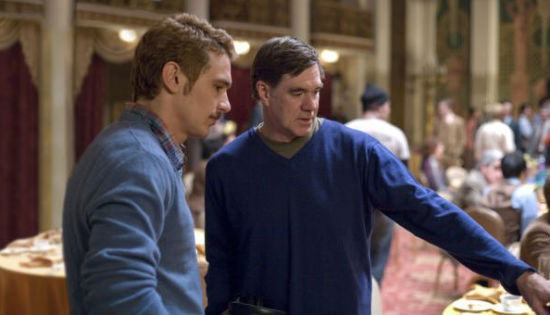 Not only is James Franco attached to seemingly every single movie that's currently in development, not only is he attending school, not only is he hosting the Oscars and not only is he a Best Actor nominee for his work in 127 Hours, Franco has a new art exhibition opening in Los Angeles this week. And it's a doozy.
Unfinished is an exhibition featuring work by Franco and director Gus Van Sant that will be open at the Gagosian Gallery in Beverly Hills from February 26-April 9. It features two films, Endless Idaho and My Own Private River, which Franco edited from unused footage from Van Sant's film 1991 My Own Private Idaho. Endless Idaho is a 12 hour (yes, you read that right) look at the making of Van Sant's film while My Own Private River is a portrait of the late, great actor River Phoenix, who starred in Van Sant's original film. Read more about the films and the exhibition after the break.According to the press release, when Van Sant and Franco were collaborating on the 2008 Oscar winning film Milk, Van Sant showed the actor a whole bunch of footage that he shot for his 1991 film My Own Private Idaho. Franco decided to take all the raw footage and fashion it into two films. Here are the official descriptions:
For Endless Idaho, Franco edited outtakes, deleted scenes, alternate takes, and behind-the-scenes footage from My Own Private Idaho into a 12-hour film. Endless Idaho provides an unprecedented look into the workaday process of making a movie, from location scouting to repeated takes. Like many of the films of Andy Warhol, a major influence on Van Sant's own auteur style, it is a provocative, often riveting blend of documentary and fiction. Interviews with actual hustlers who played secondary characters in My Own Private Idaho are intercut with shots of River Phoenix and Keanu Reeves improvising and refining their performances under the direction of Van Sant and his crew. The music for Endless Idaho was composed by Luke Paquin and Tim O'Keefe.
By contrast, My Own Private River consists largely of shots of Phoenix 's character, Mike, woven into a compelling portrait. Franco describes being mesmerized by Phoenix 's "uninhibited acting" in this unreleased footage, and his edit captures the gifted actor at his most emotionally expressive and physically dynamic. The score is by Michael Stipe, who is an art school drop-out.
In addition to the two films, the gallery will have eight works on paper by Van Sant. You can read more about them on the gallery's official site.
I think we're all on the same page here: "How the hell does Franco have time to do all of this?" Followed by, "We've got to see these right now."
If you're in Los Angeles, here's the gallery information: 456 North Camden Drive, Beverly Hills, CA 90210. Hours 10 a.m.-6 p.m. Tuesday-Saturday. Visit www.gagosian.com.