This Week In DVD & Blu-Ray: Due Date, Megamind, Get Low, Fish Tank, And More
This Week in DVD & Blu-ray is a column that compiles all the latest info regarding new DVD and Blu-ray releases, sales, and exclusive deals from stores including Target, Best Buy and Fry's.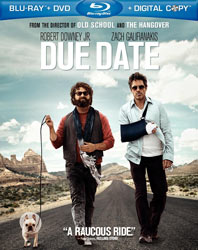 DUE DATE
(Blu-ray available as 'Blu-ray only' and 'Blu-ray + DVD + Digital Copy')
I wasn't nearly as impressed by The Hangover as the rest of the world seemed to be, nor was I as dismayed by Due Date. In my estimation, the primary reason Todd Phillips' latest comedy fell short of his previous effort is novelty—as much in premise as character dynamic and comedic set pieces. Given enough time, I think both films will appear similarly tired. Until then though, Due Date remains a moderately enjoyable Planes, Trains and Automobiles retread, afforded more vibrancy than it's worth due to its affable leads. Robert Downey Jr. plays the easily irritated straight man, and Zach Galifianakis plays the eccentric, flamboyant whack-job who consistently ruins his day. There are only so many directions to take that pairing, and we've seen most of them play out over the course of the past 80 or so years. Due Date has little new to bring to the table. But then, it's an 'odd couple' road trip comedy in 2010. How could it?
Available on Blu-ray? Yes.
Notable Extras: DVD – A gag reel. 2-Disc Blu-ray – Includes everything on the DVD, as well as additional scenes, a complete Two and a Half Men Scene featuring Ethan Tremblay, a Due Date Action Mash-Up, and a Due Date Too Many Questions Mash-Up.
*Does not include 2-Disc Edition, which costs $24.99 at Target, Best Buy, and Amazon.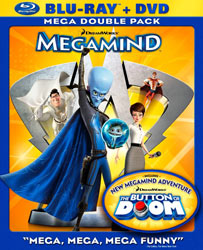 MEGAMIND
(Releases on Friday, February 25)
If Megamind were merely bad, as its trailers portended, then there would be little reason to fret over "what could've been". It's only because the movie has the capacity to be so much better than it is that it ultimately disappoints. The film has a lot going for it—an earnest, zany energy, promising plot developments, a rousing score, impressively detailed animation, adept voice work—and it puts most of it to good use. If only the film were funny, too. Alas, Megamind's comedic lameness is the one thing dragging the picture down. Marred by tedious gags, stock song choices, and ugly character designs—all unfortunate trademarks of Dreamworks Animation—the movie's few laughs seem to be the result of some in-studio riffing by Will Ferrell and Tina Fey, who do their best to save the film from the glut of incessant, lazy one-liners stifling it of all its heart and creativity.
Available on Blu-ray? Yes.
Notable Extras: DVD – A filmmakers commentary, a deleted scene, a Meet The Cast Of Megamind featurette. Blu-ray – Includes everything on the DVD, as well as a new Megamind adventure ("The Button of Doom"), 2 more featurettes ("Inside Megamind's Lair", "AnimatorMan"), a Video Comic Book, and games.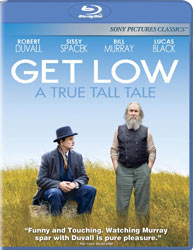 GET LOW
Get Low tells of a rifle-toting old codger whose folkloristic reputation precedes him by at least four counties. We're expected to believe that he's deserving of this notoriety despite the movie making little effort to show what he's done to earn it, but luckily the role is filled by Robert Duvall, so we do. It's a modest picture, worth more for its engaging performances (which also include Bill Murray and Sissy Spacek) than its mostly stagnant, rote storyline. Shave off the last 60 seconds, and it makes for a handsomely crafted—if a tad underwhelming—character piece.
Available on Blu-ray? Yes.
Notable Extras: DVD & Blu-ray – Commentary with Robert Duvall, Sissy Spacek, director Aaron Schneider & producer Dean Zanuck, featurettes ("The Deep South: Buried Secrets", "Getting Low: Getting Into Character"), a Cast & Crew Q&A, A Screenwriter's Point of View, and an On the Red Carpet feature.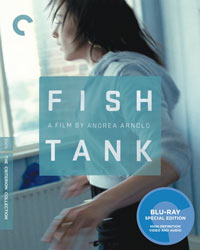 FISH TANK (CRITERION COLLECTION)
Fish Tank is the movie Precious wishes it could've been. Both films depict a young girl's struggle to escape the confines of their lower class lifestyle, but Fish Tank does so without actively wallowing in misery. Yes, the film can be upsetting—sometimes devastatingly so—but its stark realism comes from a place of thoughtful, empathetic honesty rather than deliberately intensified hideousness. Fish Tank also benefits from genuine narrative progression. As the film hurtles toward a certain nauseatingly inevitable development, it's hard not to share the anger of this deeply troubled, suffocated teenager—one who, after entering the picture as a detestable shrew, continues to grow in the hearts and minds of the viewer. The film has a rare, raw power, and should not be missed. [Currently streaming on Netflix Watch Instantly.]
Available on Blu-ray? Yes.
Notable Extras: DVD & Blu-ray – Three short films by director Andrea Arnold: Milk (1998), Dog (2001), and the Oscar-winning Wasp (2003), New video interview with actor Kierston Wareing, Audio conversation with actor Michael Fassbender from 2009, Audition footage, Stills gallery by set photographer Holly Horner, PLUS: A booklet featuring an essay by film scholar Ian Christie.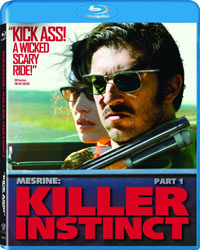 MESRINE: KILLER INSTINCT
Part I of a two-part crime saga, Mesrine: Killer Instinct stars Vincent Cassel as Jacques Mesrine, the notorious French gangster who spent a good 20 years kidnapping, robbing, murdering and breaking out of prisons. It's garnered positive reviews. Here's the trailer. [Currently streaming on Netflix Watch Instantly.]
Available on Blu-ray? Yes.
Notable Extras: None.
Other noteworthy DVD (and Blu-ray) releases this week...
Weeds (Season 6) [DVD / Blu-ray] – Nurse Jackie (Season 2) [DVD / Blu-ray] – All-Star Superman [DVD / Blu-ray] – Last Train Home – Leaving – Invader Zim: Operation Doom – Birdemic: Shock and Terror – Sweet Smell of Success (Criterion Collection) [DVD / Blu-ray] – Senso (Criterion Collection) [DVD / Blu-ray]
Noteworthy Blu-ray-specific releases this week...
Memento – The Last Unicorn – Daughters of Darkness

NOTES: Some deals may vary by store. Some deals may be in-store only. All deals are for DVDs unless otherwise noted.

$10 – Blu-ray sale: The Terminator, Office Space, Super Troopers

$8.99 DVD or $13.99 Blu-ray – Toy Story 3, Scott Pilgrim vs. the World, Let Me In, Resident Evil: Afterlife, Legend of the Guardians, The Last Exorcist, and more...
$11.99 DVD or $16.99 Blu-ray – The Social Network, Wall Street 2, The A-Team, How to Train Your Dragon, The Sorcerer's Apprentice, Shrek 4, Alice in Wonderland, Beauty and the Beast

$8.99 – Blu-ray sale: Angels & Demons, The Bounty Hunter, Casino Royale (3-Disc Edition), The Dark Crystal, District 9, Kung Fu Hustle, The Mask of Zorro, Moon
$13.95 – Blu-ray sale: Easy A, The Karate Kid (2010), The Other Guys, Takers
$14.99 – Blu-ray sale: The Social Network