Trivia: Sam Mendes Originally Planned For Kevin Spacey To Play Villain In 'Bond 23'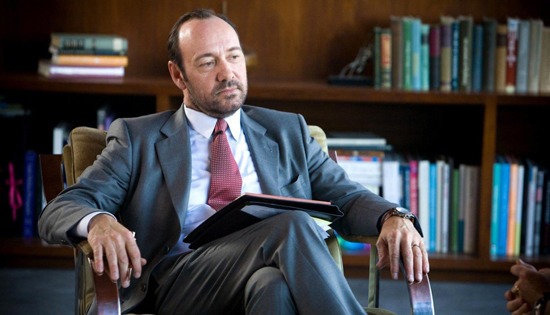 We're at the point now where trivia gets reported about films that don't even exist yet. So it goes with the twenty-third James Bond film, which Sam Mendes is set to direct with the returning Daniel Craig and Judi Dench, and the possible involvement of Javier Bardem, and the rumored participation of Ralph Fiennes.
Javier Bardem has been offered a villain role, and it looks like that is one that was originally intended for Kevin Spacey, who is again working with his American Beauty director Sam Mendes in a new stage version of Richard III.
LiveForFilms (via Bleeding Cool) talked to Mr. Spacey after a screening of The Usual Suspects in Dublin, and discussed the Bond 23 possibility:
I asked him did he want to be the Bond villain in Bond 23 as Sam Mendes was directing it. Spacey would have loved to have played the part and looks as if he would have if it had not been for Richard III. Sam Mendes is also directing that, but Spacey goes on tour with the play while Mendes goes on to direct Bond. Neither Sam or Kevin were happy about it but nothing could be done.
(LiveForFilms notes that no recording equipment was allowed, hence his paraphrased recollection rather than a direct quote.)
Kevin Spacey might have made a good bad guy for the new Bond, especially if he could have gone more Casino Jack than Lex Luthor. (For what it's worth, I actually quite liked his Lex Luthor, but would rather not see that particular performance in the next Bond film.) Not that it matters, as it seems the possibility is off the table for now.