VOTD: Soapbox Films' Steampunk Video For Ben Lovett's "Eye Of The Storm"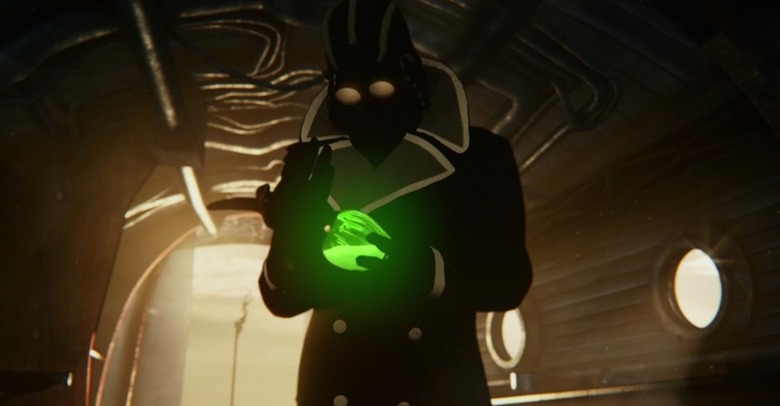 /Film reader Courtney M pointed us to this striking music video for Ben Lovett's "Eye of the Storm." Against a melancholy acoustic tune, a solitary pilot wanders through his steampunk airship, tossing out remnants of his old life in order to begin anew. It looks like something out of Sin City, or an anime series. And yes, a storm is involved at one point.
Even more interesting than the video itself, however, are the behind-the-scenes footage and VFX progression reel that were posted by Soapbox Films. Check it all out after the jump.
Lovett is an Atlantan musician and composer. He's written the soundtracks of several films, including Last Goodbye, The Signal and The Last Lullaby — the last of which won him Best Score at the Brooklyn International Film Festival. "Eye of the Storm" is Lovett's second music video from his album Highway Collection, due out March 15. (You can watch the other video, for the single "Heartattack," here.)
Burbank-based Soapbox Films is the same team behind last year's Webby Award-winning Muppets cover of Queen's "Bohemian Rhapsody" (which, if you haven't seen it already, you really should, because it's effing adorable). They also worked on the Broken Bells' "The Ghost Inside" video, which starred Christina Hendricks as a sad, broke, and very beautiful android.
At one point in the making-of video, producer Kris Eber says, "If we've done our job correctly, the audience has no idea what went into it." Indeed, "Eye of the Storm" looks so rich and polished that I was surprised to learn that the whole thing was shot in one day, on a shoestring budget. The visual effects are a combination of old-school film tricks and new-school technology, similar to the techniques used in Frank Miller and Robert Rodriguez's Sin City.
Click on the videos below to learn what, exactly, went into it.
Behind the scenes:
Visual effects reel: