Page 2: Bruce Lee, King's Speech, Conan 2, Mad Men, Taxi Driver, Daniel Radcliffe, Preacher, Dune, Banksy, 3D, Firefly, Vin Diesel, The Hobbit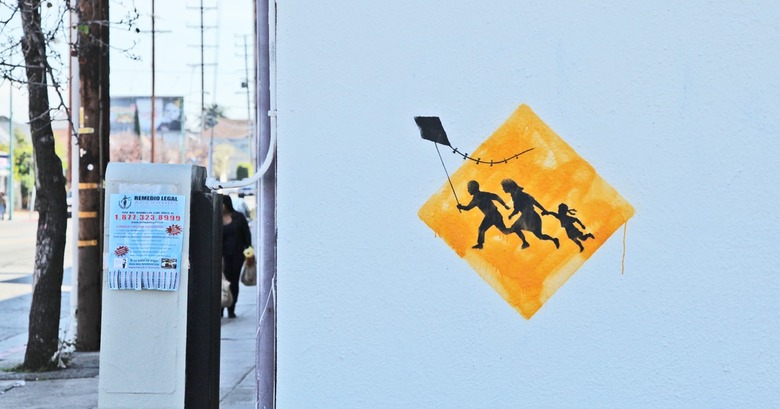 What is Page 2? Page 2 is a compilation of stories and news tidbits, which for whatever reason, didn't make the front page of /Film. After the jump we've included 40 different items, fun images, videos, casting tidbits, articles of interest and more. It's like a mystery grab bag of movie web related goodness. If you have any interesting items that we might've missed that you think should go in /Film's Page 2 – email us!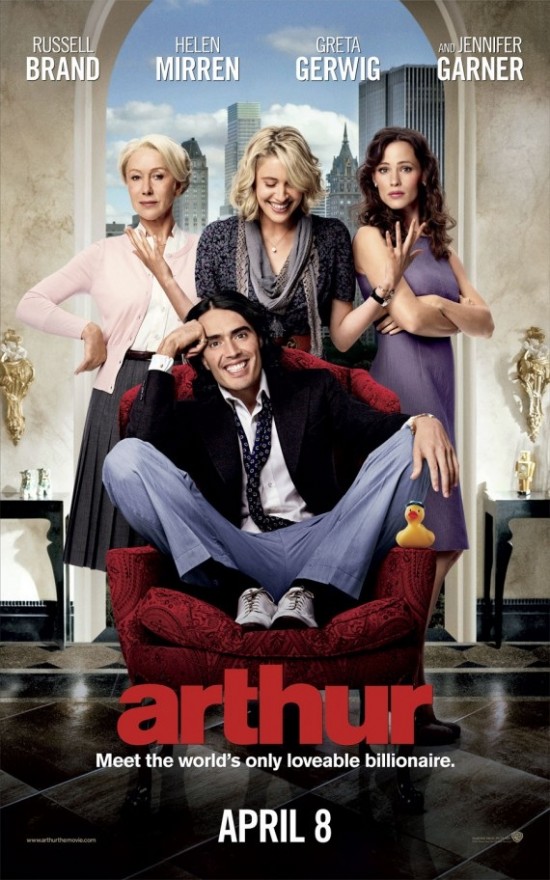 Warner Bros has released a second poster for Arthur. [impa]
Topless Robot lists The 15 Lamest Bobbleheads in Nerd-dom.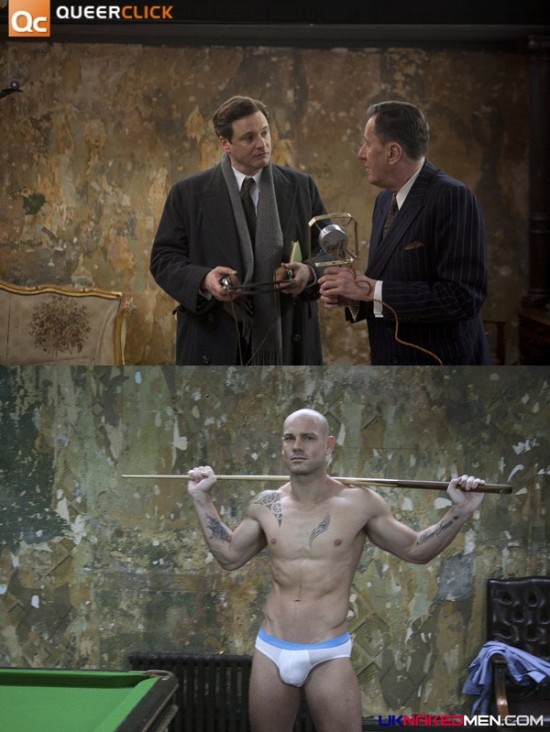 Mini-LOL: See proof that The King's Speech was shot on the set of a gay porno. [vulture]
Cinematographer Jeff Cronenweth talks to Indiewire about working on The Social Network: "He takes his time with the digital master. He's a painter. He takes time to analyze the frame. You can stop the frame and make a diversity of color and density choices, use power windows to isolate parts of the frame." You still have to get the right exposure to start with, Cronenweth reminds: "An HD Cam doesn't change those principles. It takes all the same effort." And shooting in the dark is always an aesthetic risk, he says: "Low levels of light is not safe photography. But it serves the story really well."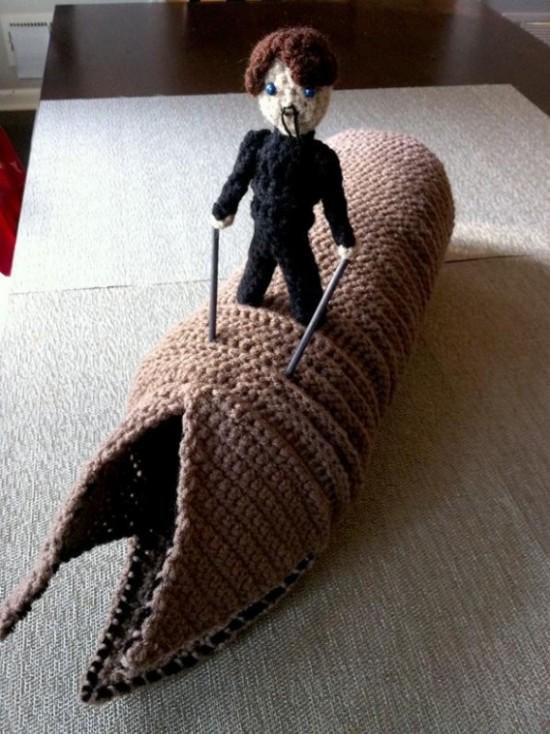 Badass has posted this photo of an awesome DUNE Sandworm Crochet.THR has a complete listing of all the Oscar-week parties in Hollywood.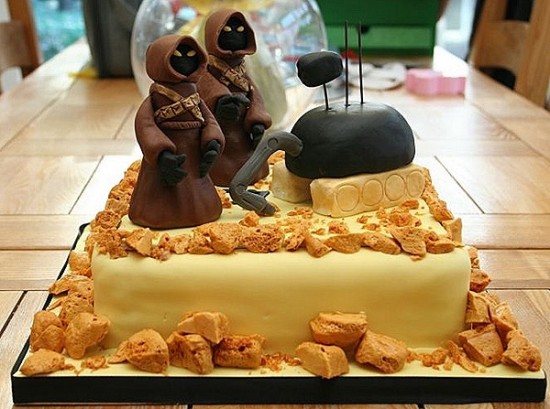 This cool Jawa Cake was made by Cake Central Member Pkayb. [betweenthepagesblog]
The E-Advisor lists 10 Best Movie Dream Sequences.
HolyTaco lists 25 Vintage 3D Movie posters.Lucas Till, who plays 'Havok' of Matthew Vaughn's X-Men: First Class prequel, spoke to JustJared about the 'brother' relation with Cyclops originating in the comics:
"I definitely remember wanting to be Wolverine, but Havok is a great consolation prize. I can shoot energy beams out of my entire body, and I'm the brother of Cyclops. Havok has always historically been the brother with more potential, bu because he has less control over his powers, he has always been secluded and separated."
Due to the amount of graphics and images included in Page 2, we have to split this post over a BUNCH pages. Click the link above to continue the second page of Page 2.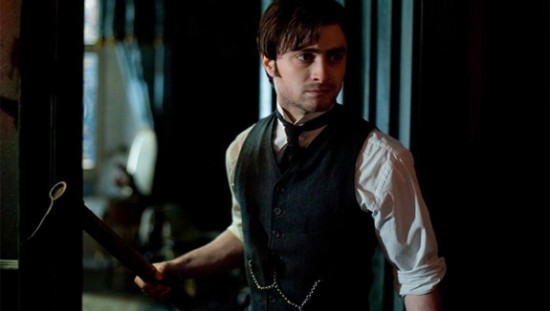 Check out this photo of Daniel Radcliffe in The Woman in Black. [mtv]
Independent producer Ted Hope brings his blog Hope for Film to IndieWIRE Blog Network.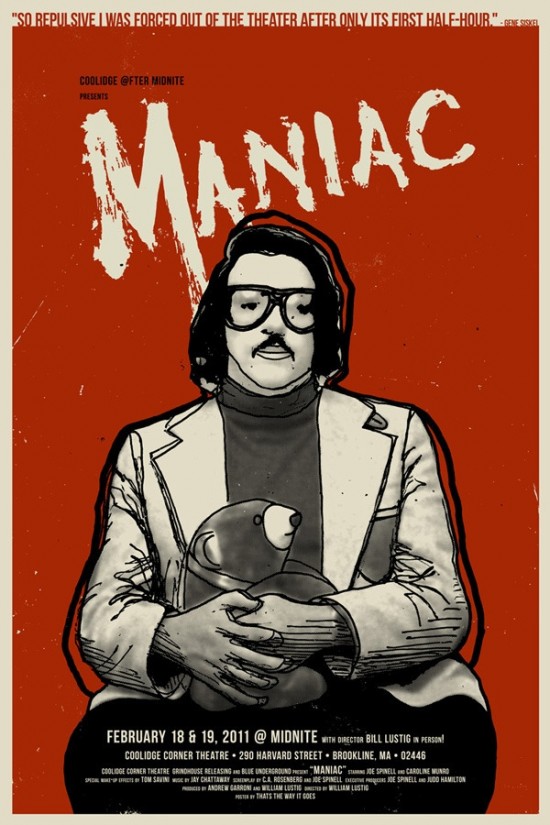 Derek Gabryszak created this poster for a screening of Maniac. 24' x 36' limited edition screenprints are available for $40.Blastr lists 7 Firefly nods Nathan Fillion dropped into Castle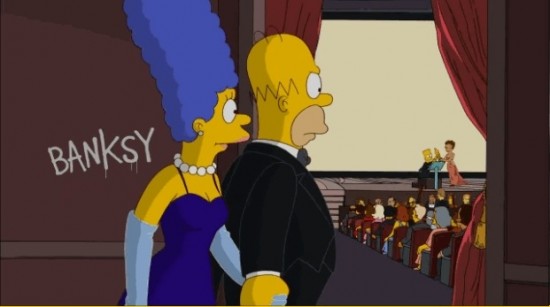 The latest episode of The Simpsons featured a shout out to Banksy. [postersandprints]
Apple was deemed the company at with the most product placement in movies, with its computers, iPads, iPods featured in 30 percent of the top movies at the U.S. box office in 2010. [reuters]
Watch an old interview with Bruce Lee on the Pierre Berton Show which was filmed in December 1971 and was lost for 23 years. [likecool]
The writers of X-Men: First Class and Thor, as well as TV shows like Fringe and Terminator: The Sarah Connor Chronicles, will appear at the MCM Expo London Comic Con. [cbm]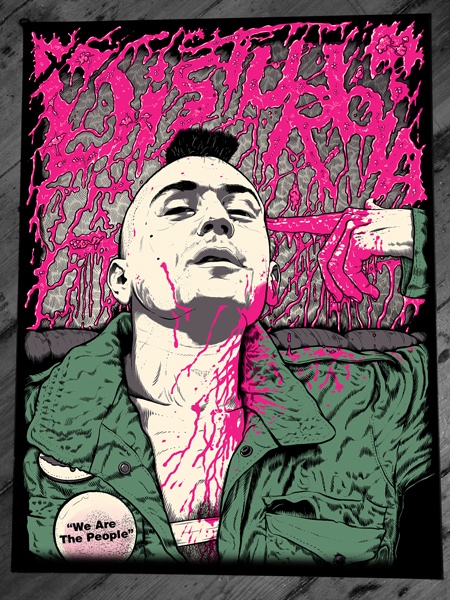 Disturbia have created a poster for Taxi Driver: "Travis Bickle" is an 18x 24 screenprint, has an edition of 50, and costs £17. [omgposters]
Topless Robot have asked readers which are the worst aliens in movie history.
Due to the amount of graphics and images included in Page 2, we have to split this post over a BUNCH pages. Click the link above to continue the third page of Page 2.
Check out the world's largest Origami X-Wing.
Angel/Buffy actress Charisma Carpenter will play twins in Deadly Sibling Rivalry. [geektyrant]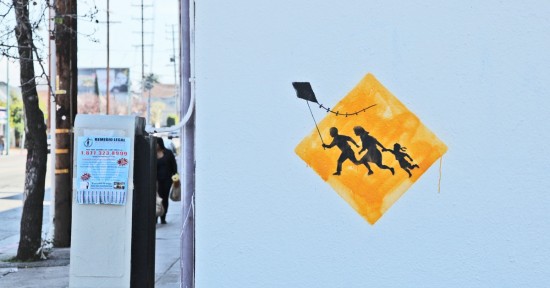 Another new Banksy spotted in Hollywood.
Ian McKellen was originally supposed to start filming The Hobbit on February 21st 2011, and blogged about it: "I hadn't intended last Thursday to arrive in Wellington for The Hobbit filming, five weeks early. Yet, what's new? Just a year ago I had expected to start shooting in July 2010, with Guillermo del Toro in charge... A year on, filming was to start at the end of February 2011. Then, Peter Jackson had his stomach operation. The insurance company has insisted on five weeks recuperation. Which is why, yet again, I'm here early. Waiting for Bilbo."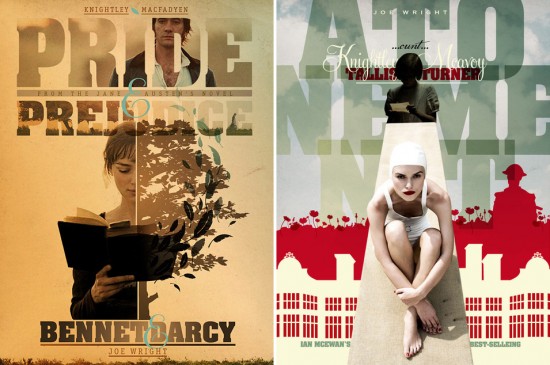 Federica Bonfanti created posters for Atonement and Pride & Prejudice. [reelizer]
Scott and Jean Adam, the two American missionaries killed following their kidnapping by Somali pirates, had ties to the movie industry. [wrap]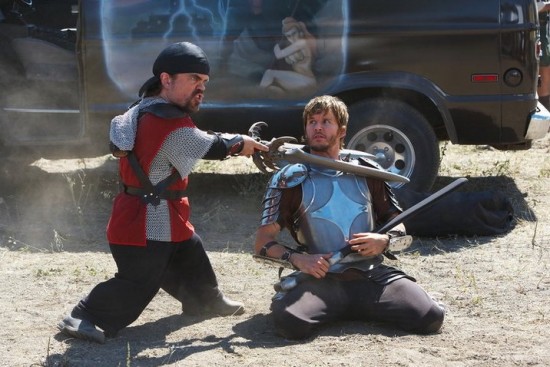 Joe Lynch has released a second photo from his upcoming film Knights of Badassdom. [facebook]Conan the Barbarian producer Avi Lerner says Conan 2 is already in development: "We didn't want to start it until we'd finished Conan," he tells us, but with confidence in Marcus Nispel's revivified warrior growing, and a sequel already in development, Lerner reveals that "We will definitely shoot Red Sonja in between Conan and Conan 2." [cbm]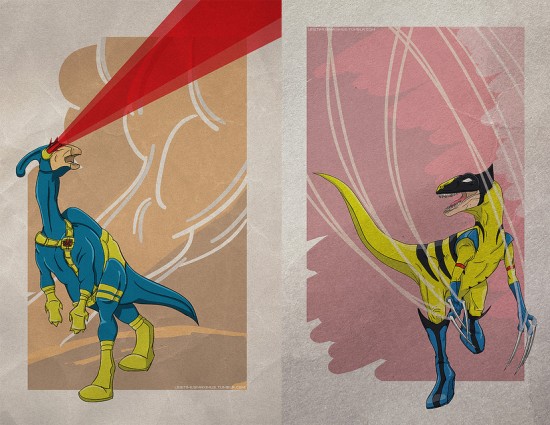 Graphic designer David Resto created "Superhero Dinosaurs." [laughingsquid]
Vin Diesel's One Race Films is teaming with Fox Digital Entertainment to produce an original web series about the lives of bouncers titled The Ropes. [variety]
Due to the amount of graphics and images included in Page 2, we have to split this post over a BUNCH pages. Click the link above to continue the fourth and final page of Page 2.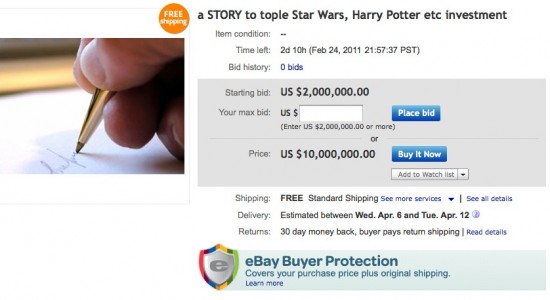 Nerdbastards noticed this eBay listing for A Script That Can Tople Star Wars for only $2 million. And yes, the "tople" typo is in the listing...
Animes that are available to be streamed for free and legally online are still pirated because of "factors like speed of availability, video quality, and especially good subtitles with respect for culture all come into play." [gizmodo]
Watch the first footage from The Mortician (3D), which just made its worldwide debut at the Berlin Film Festival. [quietearth]
Moviefone lists 10 Movies the Oscars Made Famous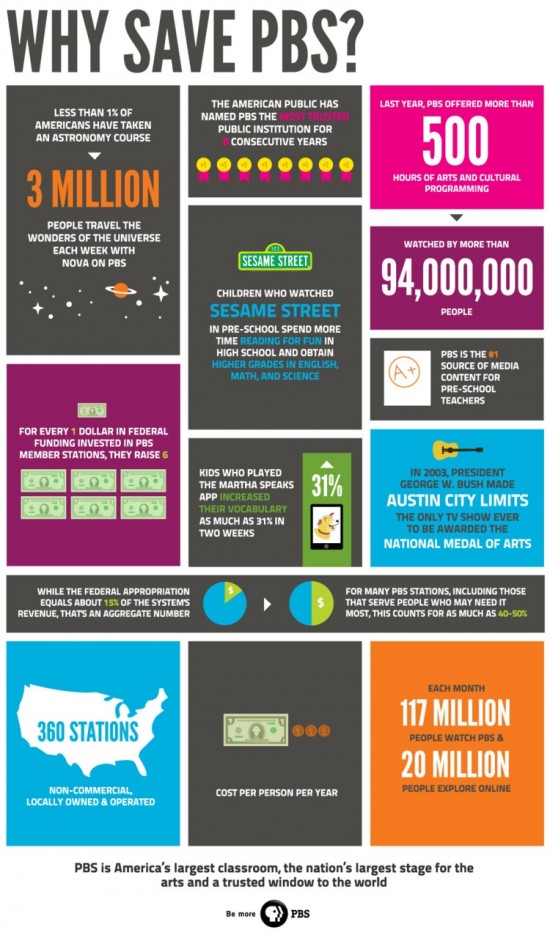 Why should we want to save PBS? Here is an infographic to explain. [ilovecharts]
Terminator: The Sarah Connor Chronicles reruns will now air on SyFy. [tvobermind]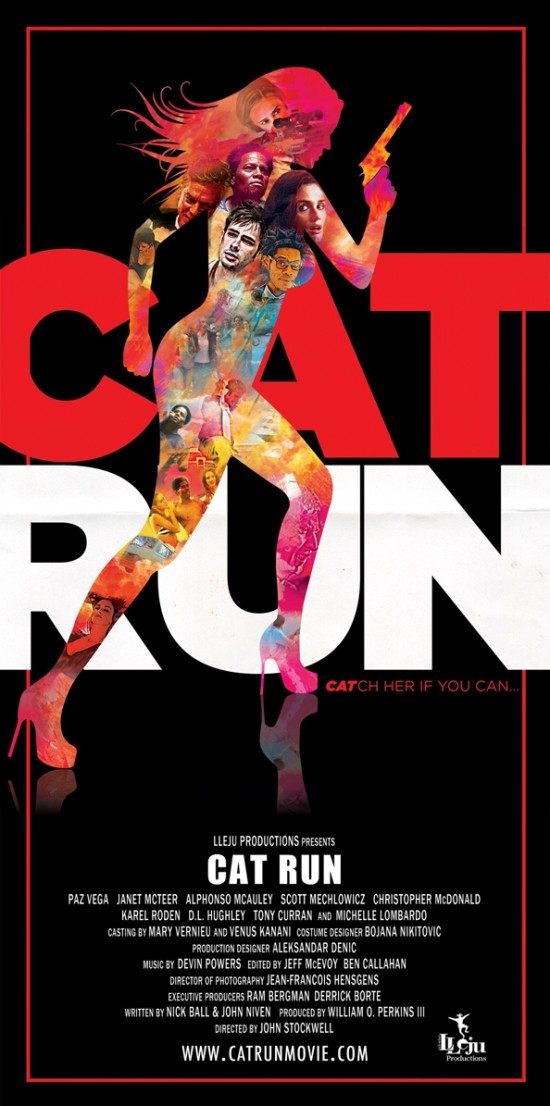 Here is the movie poster for Cat Run starring Paz Vega, Janet McTeer, Christopher McDonald, Tony Curran, Scott Mechlowicz & DL Hughley and directed by John Stockwell. [justpressplay]
FilmSchoolRejects lists 7 Directors Better Suited For 'Preacher' Than DJ Caruso.MTV asks John Slattery if there will be a Mad Men movie.ScriptShadow reviews the script for Ben Magid's 2006 screenplay Pan, a Noir/Fantasy/Serial Killer re-imagining of Peter Pan:
A recently retired police captain, Hook, is called back in to action when a boy goes missing under mysterious circumstances. He enlists the help of a woman named Wendy who, since her own kidnapping as a child, has been diagnosed as clinically insane.