Johnny Depp Will Not Be Emir Kusturica's 'Pancho Villa;' Gael Garcia Bernal And Benicio Del Toro Considered To Replace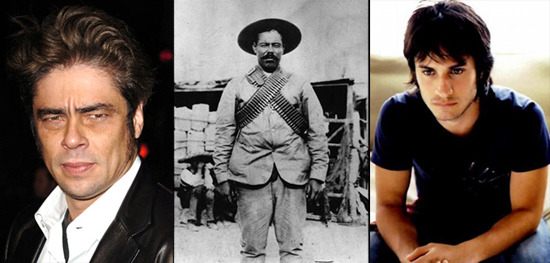 When we heard that Johnny Depp would play the lead in The Seven Friends of Pancho Villa and the Woman With Seven Fingers for Emir Kusturica, a few things ran through my mind. First, surprise at the fact that the constantly-busy actor would be in the sort of marginal film (with respect to the mainstream box office) that was once a big part of his resume. Second, that it was more than a bit unfortunate that a Latin actor didn't get the role. Third, I was willing to accept that considering that it meant Emir Kusturica would gain a much larger audience for the film.
Things have now changed. To no one's great surprise, Johnny Depp's schedule will prevent him from playing Pancho Villa. As a replacement. Mr. Kusturica is reportedly eying Gael Garcia Bernal and Benicio del Toro. That should take care of some of the major arguments against the film.
Blic Online (via Bleeding Cool) announces that Johnny Depp has dropped out and that the two former Che Guevaras are in contention for the lead role. The site says "Kusturica will soon meet the two actors in Cuba, after which he will come to a final decision as to who gets to be Villa in his new production."
Note that the film was once called Wild Roses, Tender Roses, but the much longer title The Seven Friends of Pancho Villa and the Woman With Seven Fingers seems to be back in play.
The film is intended as a loose adaptation of James Carlos Blake's novel The Friends of Pancho Villa, a synopsis of which follows.
During the roughly 10 years the Mexican Revolution tore across the land, it unleashed a human catastrophe unparalleled in that country since the Conquest. Rodolfo Fierro teams up early on in the action with Pancho Villa the bandit/revolutionary, one of the few who seem to revel in love as much as in death. He, for example, dislikes torturing prisoners, because it takes too long. "The time you spend torturing a man is time you could spend dancing and making love," he tells Fierro, who has just witnessed fellow revolutionary Emiliano Zapata's followers roasting an old man to death. [Author James Carlos] Blake blends fact and fiction into one of the few novels that risk political incorrectness by frankly describing the murder, betrayal and deceit that turned a revolution against dictatorship into a civil war that cost the country nearly a third of its population and left psychological scars that last to this day.