'The Simpsons' Parodies Awards Season, Pixar And More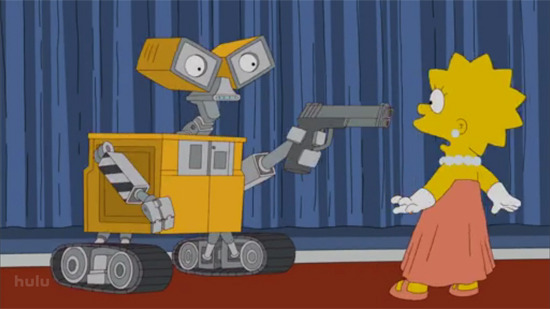 Every once in a while, The Simpsons still hits the right notes. A few months ago the show opened with a Banksy-designed sequence that was the most pointed bit of animation seen on the show in years. Now The Simpsons is turning barbs toward the film award season, and is taking easy but amusing shots at Pixar, Aardman Animation, Sylvain Chomet and more. Some of the ideas in here are pretty well-worn (Mixar instead of Pixar?) But there are moments of good stuff that are worth watching to find. Check out the episode after the break.
There's a lot in here: Itchy and Scratchy take on kung fu classics; a fake Randy Newman song; clips of a 'Mixar' short called Condiments; a fairly unsettling thing based on The Triplets of Belleville; a bit of Martin Scorsese; a member of the Hollywood Foreign Press Association; a dig on Persepolis; a good take on Wallace & Gromit; and some brilliant stuff from Ricky Gervais.
Even Taylor Hackford isn't safe, though that joke probably went right by most of the audience. The best joke in the episode isn't even related to any of these parodies, but to Roman Polanski.
Here's the entire episode. (via Hulu, which means it is viewable in the US only.)