Disney's Developing New 'Pirates Of The Caribbean' Ride To Be Based On Movie Series, Not Disneyland Attraction?
Last week, Disney presented the first concept image of their upcoming Shanghai Disneyland. However the image was released intentionally low res and blurry to protect the attractions from being quickly replicated by Chinese amusement parks prior to Shanghai Disneyland's opening. However Disney and More noticed something familiar — what appears to be a mountain with a big water drop.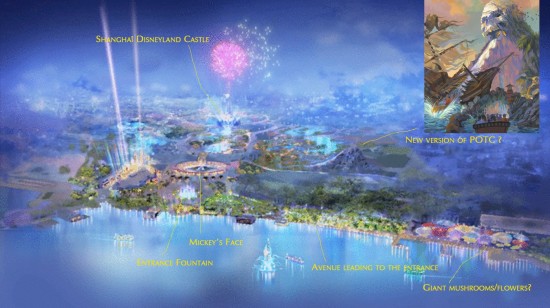 Disneyland fanatics are speculating that this could be a new Pirates of the Caribbean ride based off the movie series, and not the original Disneyland attraction. Disney had formerly announced that such a ride was being developed for Hong Kong Disneyland, and you will see in Tim Delaney's concept art below (via Micechat) that it is kind of a hybrid of Splash Mountain and Pirates of the Caribbean.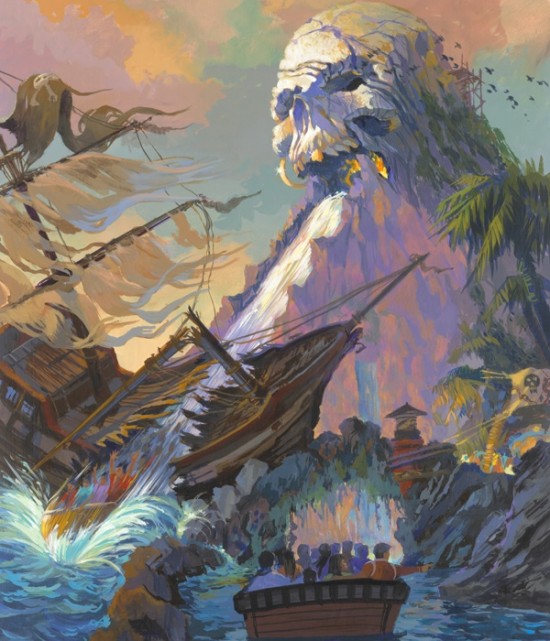 Disney's Song of the South is pretty much banned from release on modern home video due to sterotypical depiction of African-Americans within the live action sequences of the film, and the company has been distancing themselves from the movie  for a long time now. It makes sense that Disney would try to find a way to bring the popular Splash Mountain attraction (which is based on Song of the South) to their other theme parks in some sort of revamped way. Combining it with a new Pirates of the Caribbean Ride sounds like an ingenious way of doing this. Or course, this is all just speculation for now.
And speaking of speculation... it is rumored that one of the other attactions being designed for the park is a TRON ride. However, no details have leaked and it isn't visibly seen in the park map concept art, so consider that more of a rumor for now.