Photos: The Wreckers From 'Transformers: Dark Of The Moon' At The Daytona 500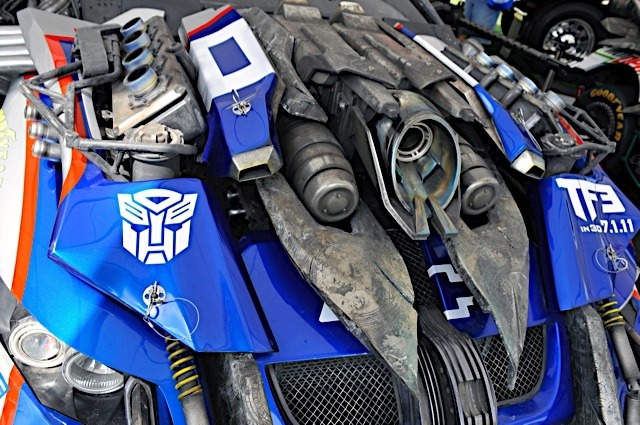 When you decide to create several Transformers that look like real life NASCAR's, where better to debut them than the biggest race of the year? In Transformers: Dark of the Moon, they're called The Wreckers and while we've already seen some images of the vehicles in action, they were featured prominently in the brand new commercial that premiered during the Daytona 500. Plus, the cars themselves were on display at the race and we've got a really cool gallery of photos below.
The first eight images come courtesy Hendrick Motorsports with a heads up from The Daily BLAM. The final four are courtesy of /Film reader Carder W. Click on each for a bigger version.
From images that were earlier revealed of the Transformers: Dark of the Moon toys (thanks to Screen Rant), we know that the Blue #48 car (which, in real life, is driven by Jimmy Johnson) is named Topspin and will be voiced by Bill Fagerbakke. The Green #88 car (driven by Dale Earnhardt Jr. in real life) is called Roadbuster and the third Wrecker, the red #42 car (driven by Juan Pablo Montoya) who is rumored to be Leadfoot.
In the Transformers universe, the Wreckers are described as follows:
The Wreckers are a special task force, generally composed of the best and the toughest die-hard fighters around. Its ranks comprise a who's-who of the obscure; mechs you've never heard much about, mostly because the Wreckers are often called in to fight when the odds of success are slim. Bluntly, they tend to burn through their roster at a frightening rate. The Wreckers are a close-knit group that's more concerned with bursting in, guns-blazing, and doing their Thing, than they are concerned with, say, strategy. Despite their disregard for planning and the bodycount their team mounts, the Wreckers are amazingly successful. If it's a lost cause, the Wreckers will be there, winning the day with sheer guts and determination.
Based on that, it sounds like they might be called in at the last minute by Optimus Prime and company to help destroy the Decepticons.
How do you think these cars look? Does the partnership with NASCAR raise your anticipation level of the film?