LOL: Watch 'Transformers: Dark Of The Moon' With Autobot Cine-Mask 3D Glasses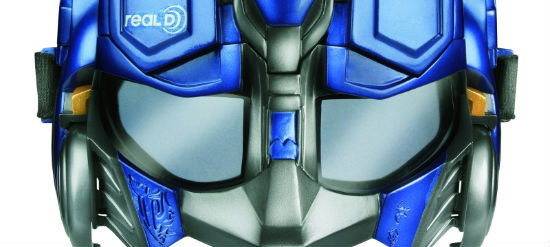 Not only is 3D driving movie ticket prices through the roof, it's driving manufacturers to make very unnecessary products. A few months back we showed you a whole bunch of different TRON: Legacy themed 3D glasses and at this year's New York Toy Fair, Hasbro announced they've partnered with Real-D to create Autobot Cine-Mask 3D glasses so kids can watch Transformers: Dark of the Moon in 3D looking like Bumblebee or Optimus Prime. See high-res photos of each mask after the jump.
Thanks to Forbes (with a heads up from Screen Rant) for alerting us to his hilarious piece of merchandise. Here's the official description from Hasbro, followed by the high res images.
Approximate retail price: $9.99: Ages: 5 & up; Available: 5/16/2011 – Get ready for TRANSFORMERS role-play masks that are "MORE THAN MEETS THE EYE!" New to the TRANSFORMERS line, fans can gear up and roll out with the TRANSFORMERS CINE-MASK 3D Masks for an all-new, one-of-a-kind experience. Each role-play mask – offered in OPTIMUS PRIME and BUMBLEBEE styling – functions as a "battle mask" to play out the TRANSFORMERS fantasy as one of these AUTOBOT characters. Each mask is also equipped with built in RealD 3D lenses that allow fans to watch any RealD 3D compatible movie! Each mask sold separately.
At only $10, I have a feeling these will actually be a pretty decent seller, even if it's strictly as a mask. Then it's up to the parents to tell their kids they're running around the house with 3D glasses on and bring them to the theater on July 1. We've seen a trailer and two commercials (the Super Bowl and Daytona 500) for Transformers: Dark of the Moon and if you watch them thinking about 3D, Bay has certainly composed his images with depth of field as a priority. Now if he can only make story and character a bigger priority, he might be on to something.
Would you purchase these masks for your kids? Yourself? Don't lie.