'Jumping The Broom' Trailer – Like 'Monster-In-Law,' Only Fun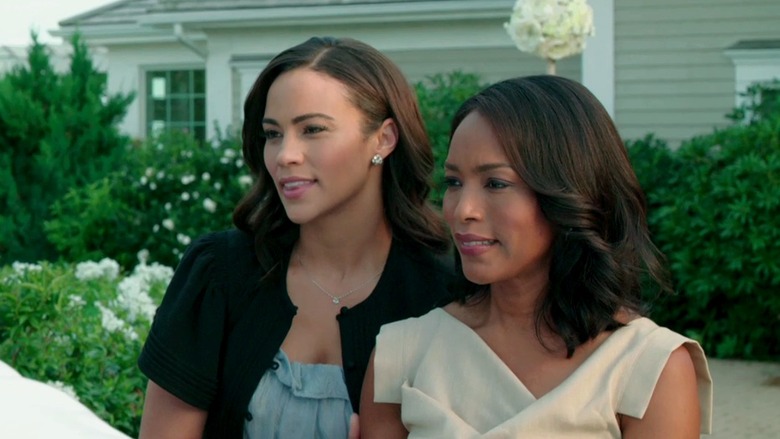 TriStar Pictures has released a new trailer for Jumping the Broom, starring Angela Bassett, Loretta Devine, Paula Patton (Just Wright, Precious) and Laz Alonso (Avatar). The film revolves around the wedding of Sabrina (Patton) and Jason (Alonso), and the clash that ensues when her uptown family meets his downtown one. This is the first feature by director Salim Akil, a television director whose credits include The Game, Girlfriends and Soul Food. While Jumping the Broom is unlikely to convert romcom haters, it looks like an enjoyably fluffy flick for everyone else. Check out the trailer after the jump.
[via TheMovieBox.Net]
Now that's what I'm talking about. Romantic comedies have a tendency to be predictable, for better or for worse. Jumping the Broom looks like it sticks to the formula — big stars, hijinks, a recycled premise. The difference is that unlike in, say, Something Borrowed, the formula actually seems to work in Jumping the Broom. The trailer has an easygoing charm, thanks to a talented cast, likable characters and gorgeous northeastern setting. I even giggled a couple of times — the meet-cute may be eye-rollingly cheesy, but it's also kinda funny, and Patton sells it. That's enough for a movie like this. I wouldn't walk into this movie expecting to be blown away, but I can think of less pleasant ways to while away a lazy afternoon.
And what a cast. Although the film is ostensibly about Patton and Alonso, I'm betting Bassett and Devine will be the real stars of the show. Mike Epps, Lil' Romeo, Julie Bowen (TV's Modern Family), Meagan Good (Eve's Bayou, Brick) and Tasha Smith (Why Did I Get Married?) round out the cast. The film opens May 6 — Mother's Day weekend, as the trailer points out — against Something Borrowed and Thor.
Synopsis:
A collision of worlds when two African-American families from divergent socioeconomic backgrounds get together one weekend in Martha's Vineyard for a wedding.