New Photos, Two New Characters And First TV Spot For 'Cars 2'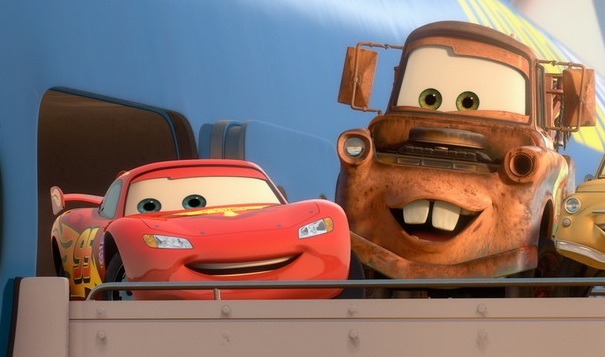 The cast of characters for Pixar's Cars 2 just keeps on growing. Over the weekend, Pixar released descriptions of two new anthropomorphic automobiles, one of which is Eddie Izzard's previously announced role as Sir Miles Axelrod. Additionally, we have a couple of cute new photos and the first TV spot for the film. Check it all out after the jump.
First, we have details for new character Nigel Gearsley and Izzard's Sir Miles Axelrod. (All character descriptions are Pixar's.)
Nigel Gearsley: Nigel Gearsley from Warwickshire, England, is an Aston Martin DB9R racer bearing #9. He got his start racing the Speed Hill Climb—a unique, completely uphill race through the Aston Hill Mountain Area that his family has run for generations. Nigel's racing career has been anything but an uphill challenge, as he's won nearly every start in the past few years on the Grand Touring Sports Car circuit, including a string of podiums at Nurburgring and Le Mans. His cool British refinement makes him an imposing presence on the World Grand Prix courses.
Sir Miles Axelrod (voiced by Eddie Izzard): Sir Miles Axlerod is a former oil baron who has sold off his fortune, converted himself into an electric vehicle and has devoted his life to finding the renewable, clean-burning energy source of the future—ultimately discovering what he believes is the fuel everyone should be using. Axlerod is also the car behind the World Grand Prix, a three-country race he created that attracts the world's top athletes—but it's really an excuse to show off his new wonder-fuel, Allinol.
Next, a couple of new photos:
Mater (Larry the Cable Guy) and Finn McMissile (Michael Caine) meet at a Japanese airport. [via Pixar]
The gang (Lighting, Mater, Luigi, Guido, Fillmore and Sarge) disembarks from an airplane. [via Stitch Kingdom]
And finally, the just-released TV spot:
[via ComingSoon.net]
The new characters are part of a large global cast that already includes a Japanese racer, an Italian family, and a British spy team, as well as returning stars Lightning McQueen (Owen Wilson), Mater, and others. John Lasseter has returned from the first Cars as director, and will have a cameo as pick-up truck John Lassetire. With a 74% Tomatometer rating, the original Cars is the least critically beloved of Pixar's films — which says something about how high Pixar's standards are, as a 74% score would be considered pretty solid by most studios. Cars 2 is scheduled to open June 24, 2011.
The official synopsis for Cars 2 is as follows:
Star racecar Lightning McQueen (voice of Owen Wilson) and the incomparable tow truck Mater (voice of Larry the Cable Guy) take their friendship to exciting new places in "Cars 2" when they head overseas to compete in the first-ever World Grand Prix to determine the world's fastest car. But the road to the championship is filled with plenty of potholes, detours and hilarious surprises when Mater gets caught up in an intriguing adventure of his own: international espionage. Torn between assisting Lightning McQueen in the high-profile race and towing the line in a top-secret spy mission, Mater's action-packed journey leads him on an explosive chase through the streets of Japan and Europe, trailed by his friends and watched by the whole world. Adding to the fast-paced fun is a colorful new all-car cast that includes secret agents, menacing villains and international racing competitors.