'Hesher' Trailer Featuring Joseph Gordon-Levitt And Natalie Portman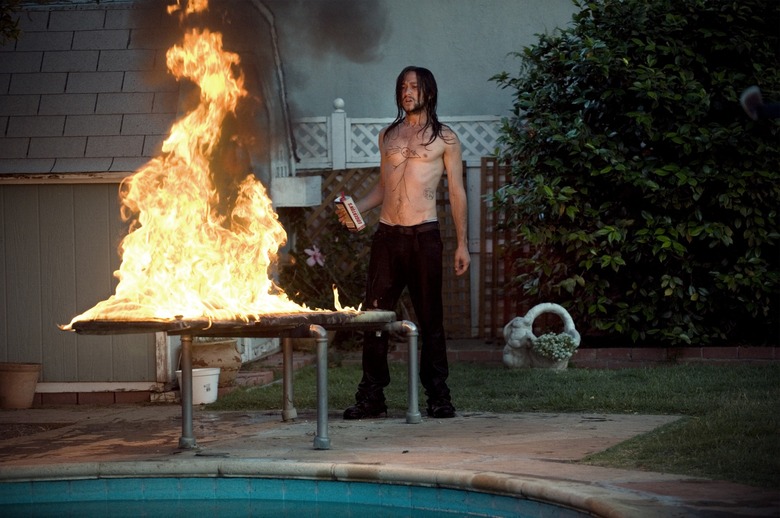 Update from Editor Peter Sciretta: Back in February, an early trailer was leaked online, and quickly yanked because it was not official. Today Wrekin Hill Entertainment released an official trailer. The original story follows below, and the new trailer after the jump.
Hesher premiered over a year ago at the 2010 Sundance Film Festival and was quickly purchased by Newmarket Films. Since then, the feature debut of director Spencer Susser has remained curiously dormant. In that time, though, stars Joseph Gordon-Levitt and Natalie Portman experienced the biggest successes of their careers and now Hesher is ready to introduce itself to the world. The film stars Gordon-Levitt as the long-haired anarchist title character who inserts himself into the life of a single parent (Rainn Wilson) and his son (Devin Brochu) as well as local girl played by current Oscar-nominee Portman. We ran Peter's mildly positive review on the site when it first premiered and I remain head-over-heels in love with the combination of humor, drama and craziness. A trailer has finally surfaced. Check it out, along with a clip from the film, after the break.
New trailer:
Here is a clip courtesy of SXSW.
Finally, just to bring it all together, the plot description from the official site:
Loud music. Pornography. Burning shit to the ground. These are a few of Hesher's favorite things. And they are what Hesher (Joseph Gordon-Levitt) brings into the lives of TJ (Devin Brochu) and his father, Paul (Rainn Wilson) when he takes up residence in their garage uninvited.
Grief-stricken by the loss of TJ's mother in a car accident, Paul can't muster the strength to evict the strange squatter and soon the long-haired, tattooed Hesher becomes a fixture in the household. Like a force of nature, Hesher's anarchy shakes the family out of their grief and helps them embrace life once more.
The one thing that's obvious from both of those videos is that Hesher isn't going to be for everybody. It's a bit out there with almost all of its choices, especially the main one of having an intense and seemingly frightening character be the emotional and connective tissue to a story about loss and love. But, in the end, the whole thing just sort of works out. It's not some sort of perfectly tied up film, though. It's just a great film about a great character and what a great character can do to the people surrounding him. Gordon-Levitt and Wilson are fantastic and it'll be interesting to see if Portman wins the Oscar, how Newmarket will market this movie which will be released around the same time as her other Spring film, Your Highness.
Was Hesher on your radar? Is it on your radar now? Will you be seeking out the film in April?