'Blacktino' Trailer – Biracial Nerd Movie To Debut At SXSW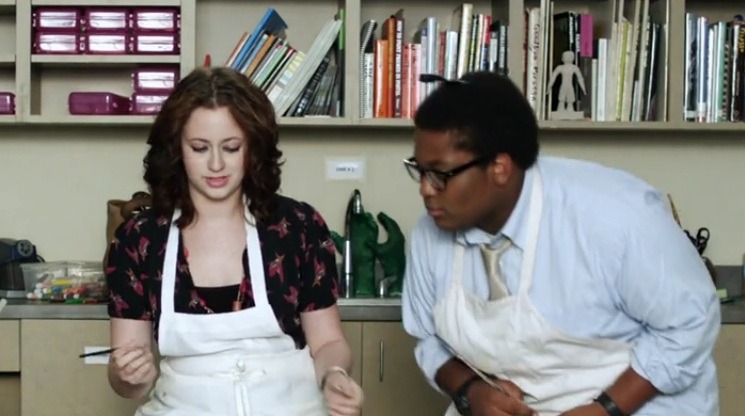 "In the history of TV, there were, like, two: Urkel and Carlton Banks. Well, I mean, four, if you count the Reading Rainbow guy and his Star Trek character." So begins the trailer for director Aaron Burns' feature film debut blacktino (yes, the B is uncapitalized on purpose), which deals with a type rarely seen in pop culture: the black nerd. Or the half-black, half-Latino nerd, to be more precise. The film stars newcomer Austin Marshall as biracial geek Stefan Daily, as he struggles to fit in at his Austin-area high school. Going by this two-minute spot, I'd say blacktino looks like an unusually smart, witty teen comedy. Watch the trailer and read the synopsis after the jump.
[via Vimeo]
The story of an oddball finding his place among other oddballs is a tried and true one — a similar theme appears in the Lemon Lima trailer I posted last week, to name one example. But blacktino stands out to me for a couple of reasons. The sharp, darkly funny tone is reminiscent of Mean Girls and Saved!, and the characters already look vivid and likeable. Most notably, blacktino seems to engage with race in a way that teen films rarely do. Although non-white characters do appear in high school flicks, it's unusual for one to explore racial issues in a way that's neither glib nor preachy — and blacktino does it from the perspective of a biracial character, no less.
Burns, who also wrote the script, is a self-described "blacktino nerd" from Austin, so I wouldn't be surprised if blacktino drew heavily from Burns' own experiences growing up. It's a tactic that's worked out pretty well for Noah Baumbach (The Squid and the Whale), Greg Mottola (Adventureland), and Paul Feig (TV's Freaks & Geeks), at any rate. Burns' resume also includes a short film titled "Now or Never," which premiered at last year's South by Southwest Film Festival, and visual effects work for Grindhouse and Machete.
blacktino will have its world premiere at SXSW on March 11. Along with newbies Marshall and Devyn Ray, the film features familiar faces Jeff Fahey (Frank Lapidus from TV's Lost), Daryl Sabara (World's Greatest Dad), Danny Trejo and Dana Wheeler-Nicholson (TV's Friday Night Lights.)
Synopsis:
"blacktino" is a dark teen comedy about an overweight half-black, half-hispanic nerd named Stefan Daily. He was raised by his black grandmother in a medium sized suburb of Austin, TX. Struggling to find his place in a mostly white high school, Stefan finds sanctuary among the eclectic mix of social outcasts in the school's Theatre Department. In the tradition of the great teen comedies of the last thirty years "blacktino" will ensure that the torch of "teen angst" continues to burn bright.