'Uncle Boonmee Who Can Recall His Past Lives' Trailer – Ghostly Monkeys, Lusty Catfish And A Dying Old Man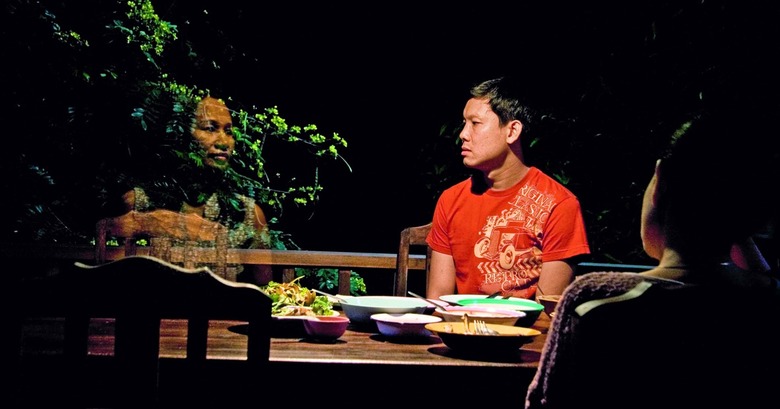 One of the most intriguing films to come out of last year's Cannes Film Festival was Uncle Boonmee Who Can Recall His Past Lives by Thai filmmaker Apichatpong Weerasethakul (aka Joe). Its Palme d'Or win seemed to catch most people by surprise, even though Weerasethakul's won awards at Cannes before (2002 Un Certain Regard for Blissfully Yours, 2004 Jury Prize for Tropical Malady) and even though Uncle Boonmee got mostly very positive reviews. Perhaps it's because the film is, by all accounts, weird — "mysterious" and "dreamlike" if you liked it; "plotless" and "impenetrable" if you didn't.
Uncle Boonmee centers around an old man dying of kidney failure who is visited by his deceased wife, now a ghost, and his long-lost son, now in non-human form. If you're thinking that doesn't sound so terribly odd after all, just wait — catfish sex is also involved somehow. With less than a month til Uncle Boonmee's March 2 U.S. release date, Apple has posted a new trailer. Watch it after the jump.
I haven't seen the film myself, although I'd defintely like to. Apparently Uncle Boonmee is considered one of Weerasethakul's more accessible films, even though, as Russ puts it, "Uncle Boonmee Who Can Recall His Past Lives seems to continue Joe's trend of making experimental, oddly paced films that adhere to no logic but their own." Plot-wise, the only things I can tell from the trailer are that the movie involves a dying man, ghosts, and shadowy creatures with glowing red eyes (as seen on Chris Ware's stunning poster). What is clear — or at least, what the trailer makes look clear — are the emotions and themes that run through the film: love, longing, loss, mortality. Early reviews have praised its originality and surreal beauty, while detractors have criticized its slow pacing and difficult structure.
The synopsis, from Apple.com, reads as follows:
Suffering from acute kidney failure, Uncle Boonmee has chosen to spend his final days surrounded by his loved ones in the countryside. Surprisingly, the ghost of his deceased wife appears to care for him, and his long lost son returns home in a non-human form. Contemplating the reasons for his illness, Boonmee treks through the jungle with his family to a mysterious hilltop cave – the birthplace of his first life...