Kiefer Sutherland Could Return To TV On Tim Kring's 'Touch'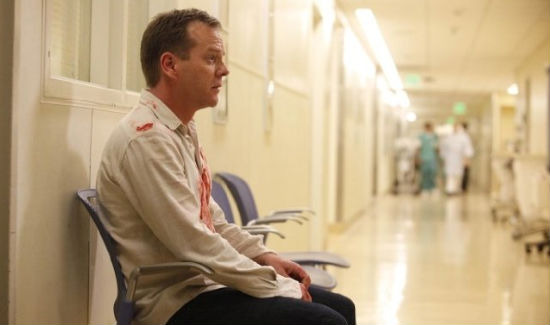 Since his hit television show 24 ended, Kiefer Sutherland has been on an entertainment walkabout. He's experienced the end of the world with controversial director Lars Von Trier in Melancholia, debated the morality of murder with a priest for an upcoming web series called The Confession and is currently starring on Broadway in the Tony and Pulitzer Prize-winning drama, That Championship Season.
However, the lucrative, structured life of a TV star might soon be calling Sutherland back. He's in preliminary talks to star in Touch, a Fox pilot from Heroes creator Tim Kring about a man whose mute, autistic son can see the future. There's more information after the break.
Deadline broke the news of the talks which could be complicated by Sutherland's commitment to That Championship Season, currently scheduled to run on Broadway through the end of May. Unless Sutherland works around the show (in which he co-stars with Jason Patric, Brian Cox, Jim Gaffigan and Chris Noth) production on Touch would have to be bumped back.
Being as it's pilot season, and Touch is a pilot, there's a chance that the timing won't work out for Kring. Maybe Fox and Sutherland, who had such a great relationship in the past, can work something out, but either way it's probably not going to stop Kring from getting the pilot made or Sutherland from finding other jobs. The only questions are, is Touch as attractive to the Fox without Sutherland in the lead role and if Sutherland jumps back on to TV, does it diminish this little multimedia foray that he's been on?
Either way, the premise of the show seems kind of cliche and though I was a fan on Kring's early work on Heroes, this show, combining elements of Flash Forward, Medium and The Miracle Worker, doesn't exactly sound too exciting. Sutherland's involvement, though, will certainly make it seem cooler. Do you agree?