'Hall Pass' Red-Band Trailer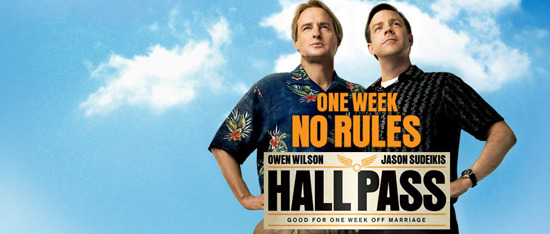 The best way to sell a Farrelly Brothers film is with a red-band trailer, and so WB/New Line has dropped this red-band clip for the upcoming Hall Pass, in which Owen Wilson and Jason Sudeikis are married guys who can't stop thinking about the sex they're evidently not getting at home. Given a week's break from the confines of marriage, the two get into some ridiculous hijinks.
This feels more like a Farrelly Brothers project than the first trailer did — that one had more of a Judd Apatow vibe. Even so, this one isn't as dirty as I expected. Have we really arrived at a point where a guy jerking off in his car as cops approach feels, well, routine? But, hey, Richard Jenkins looks like he'll be worth a few laughs, and Stephen Merchant and J.B. Smoove are on hand, which can't be bad.
Here's the red-band trailer, via IGN. Beware the curse words.
Rick (Owen Wilson) and Fred (Jason Sudeikis) are best friends who have a lot in common, including the fact that they have each been married for many years. But when the two men begin to show signs of restlessness at home, their wives (Jenna Fischer, Christina Applegate) take a bold approach to revitalizing their individual marriages: granting them a "hall pass," one week of freedom to do whatever they want...no questions asked. At first, it sounds like a dream come true for Rick and Fred. But it isn't long before they discover that their expectations of the single life-and themselves-are completely, and hilariously, out of sync with reality.
Hall Pass was written by Bobby Farrelly, Peter Farrelly, Pete Jones, Kevin Barnett and directed by Peter and Bobby Farrelly. It stars Owen Wilson, Jason Sudeikis, Jenna Fischer, Richard Jenkins, J.B. Smoove, Christina Applegate, Alexandra Daddario, Stephen Merchant, Nicky Whelan, Larry Joe Campbell, Tyler Hoechlin, Derek Waters, Alyssa Milano, Vanessa Angel and Kristin Carey and opens on February 28, 2011.