Jonathan Levine's Cancer Dramedy Retitled '50/50', Gets Release Date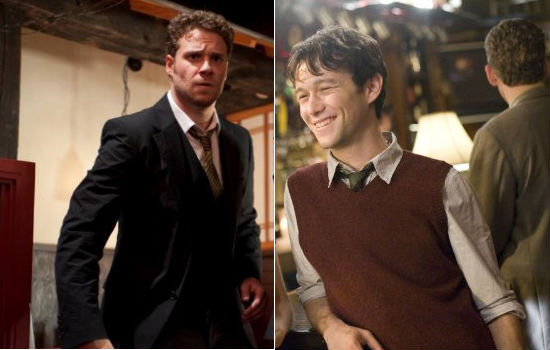 Producer/star Seth Rogen's cancer comedy has endured at least two title changes, two directors and two lead actors. So it seems fitting that its new, and final, title is 50/50 and Summit will release it on September 30. Directed by Jonathan Levine (The Wackness) the film stars Rogen as well as Joseph Gordon-Levitt in the title role, Anna Kendrick, Bryce Dallas Howard, Philip Baker Hall and Angelica Huston. 50/50 is based on the true story of Will Reiser (who also wrote the screenplay), "a producer on Da Ali G Show and Best Week Ever, who was diagnosed with cancer in his mid-20s and successfully battled the disease over several years." Michael Giacchino is rumored to be writing the score as well. There's more information after the jump.
The Wrap first broke the news of the title change and release date for the film, which was first called I'm With Cancer and then Live With It. 50/50 sounds like a news program but I'm sure, when juxtaposed with a trailer that shows Joseph Gordon-Levitt battling cancer, the title will hit home a bit more. Summit is probably just happy to finally get the word "Cancer" as far away from this film as possible.
Reiser's autobiographical script was on the Black List a few years ago and Rogen, who also worked on Da Ali G Show, decided he'd like to develop it. Originally Nicole Holofcener was set to direct James McAvoy in the lead role, but each was replaced before production began. Levine and Gordon-Levitt seem to be even better choices though. Gordon-Levitt is enjoying incredible success with his last few films (500 Days of Summer, Inception) and Levine has shown he knows how to balance youth with serious topics – such as violence in All the Boys Love Mandy Lane or drugs in The Wackness.
50/50 has a huge cast but competition on September 30 is going to be tough. Already set to open are Anonymous directed by Roland Emmerich, Dream House directed by Jim Sheridan (starring Daniel Craig and Rachel Weisz) and a romantic comedy called What's Your Number?, starring Anna Faris and Chris Evans in his first post Captain America role.
Do you think 50/50 is a good title? Is a comedy about a showbiz cancer survivor going to win over audiences?