'Certified Copy' Trailer, Starring Juliette Binoche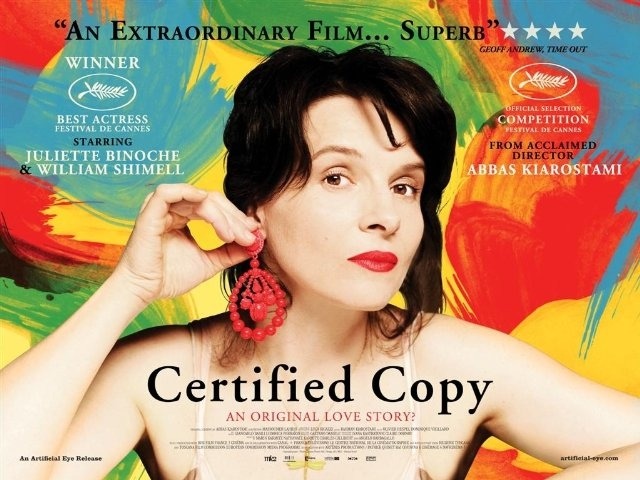 Sundance Selects have released the domestic movie trailer for Certified Copy, a French drama about a middle-aged English writer who is in Tuscany to promote his latest book, where he meets a French woman (played by Academy Award winner Juliette Binoche) who leads him to the small village of Lucignano in Southern Tuscany. The movie premiered at the 2010 Cannes Film Festival, and has played a couple dozen film festivals since.
Watch the trailer embedded after the jump. Please leave your thoughts in the comments below.
Movie Trailer:
Official Plot Synopsis:
CERTIFIED COPY is the story of a meeting between one man and one woman, in a small Italian village in Southern Tuscany. The man is a British author who has just finished giving a lecture at a conference. The woman, from France, owns an art gallery. This is a common story that could happen to anyone, anywhere. Yet not everything is as it seems. From internationally renowned Iranian filmmaker Abbas Kiarostami, comes a fascinating, romantic brain teaser starring Academy Award-winner Juliette Binoche, winner of the Best Actress Price at the 2010 Cannes Film Festival. [IN THEATERS MARCH 11 AND ON DEMAND MARCH 23 – Sundance Selects]
In the outlandish dark comedy SUPER from IFC Midnight, director James Gunn has created what is perhaps the definitive take on self-reflexive superheroes. When sad-sack loser Frank (Rainn Wilson) sees his ex-addict wife (Liv Tyler) willingly snatched by a seductive drug dealer (Kevin Bacon), he finds himself bereft and wholly unable to cope. But soon he decides to fight back under the guise of a DIY superhero called Crimson Bolt. With a hand-made suit, a wrench, and a crazed sidekick named Boltie (Ellen Page), the Crimson Bolt beats his way through the mean streets of crime in hopes of saving his wife. The rules were written a long time ago: You are not supposed to molest children, cut lines or key cars; if you do, prepare to face the wrath of the Crimson Bolt!
The movie will be released in theaters and on demand on April 1st 2011.