Guillermo Del Toro To Produce 3D Stop-Motion 'Pinocchio'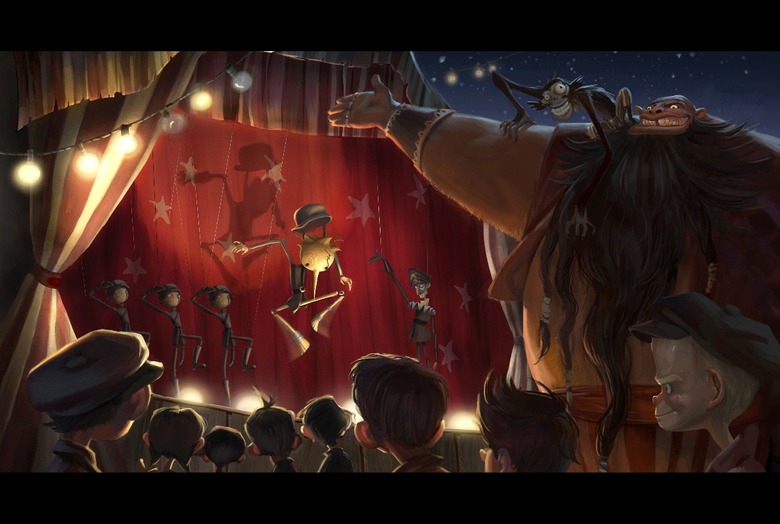 We may receive a commission on purchases made from links.
Guillermo del Toro is a filmmaking force of nature. Seemingly every few weeks, the writer/producer/director announces a new project and the latest will team him up with the Henson Company and Pathe to produce a 3D stop-motion animation version of Pinocchio. Based on a 2002 book of the classic fairy tale, the film will be aimed at slightly older audiences and be more edgy. It'll be co-directed by Gris Grimly (who illustrated the 2002 book) and Mark Gustafson from a script by Matthew Robbins. Del Toro and Robbins collaborated on the story and the whole production is gearing up for production later this year. After the jump, see more concept art from the film, read who else is going to be working on it (Nick Cave!) and even check out some quotes from Del Toro about this film and how he'll fit it with At the Mountains of Madness.Deadline exclusively broke the news of this collaboration and del Toro himself sent the above image, as well as this one to convey the proposed look of the film, which he talks about below: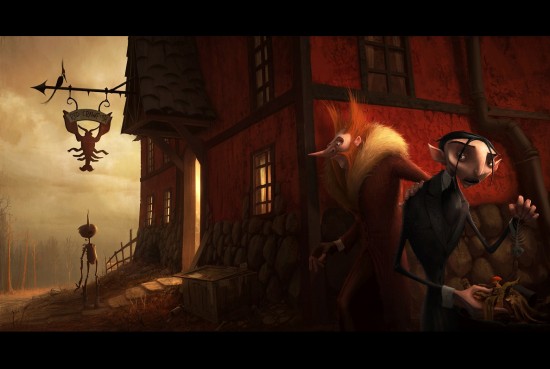 There has to be darkness in any fairy tale or children's narrative work, something the Brothers Grimm, Hans Christian Anderson and Walt Disney understood. We tend to call something Disney-fied, but a lot of people forget how powerfully disturbing the best animated Disney movies are, including those kids being turned into donkeys in Pinocchio. What we're trying to do is present a Pinocchio that is more faithful to the take that Colodi wrote. That is more surreal and slightly darker than what we've seen before.
Nick Cave has already signed on to be the musical consultant and the puppets and 3D will be done by the UK company McKinnon and Saunders who did Fantastic Mr. Fox, Corpse Bride and more.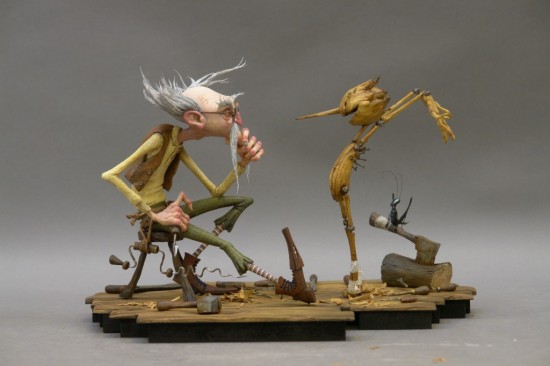 Del Toro and Robbins reportedly came up with the story and take on this material about four years ago and Del Toro was going to direct it himself, but then ended up doing Pan's Labyrinth instead. So they have some prep work in place which will allow Del Toro to go ahead and direct At the Mountains of Madness in the coming months while producing this.
We've designed key frames and characters, we know the mood and the feel, we've created a bible. Shooting stop motion animation takes a lot time, but we've got the right team and I will be there for daily or weekly updates on how it's going.
There's more information in the Deadline story, including some additional story specifics and also the latest updated on At the Mountains of Madness which is now two weeks away from getting a greenlight:
We are doing very intense prep work, we've shown Universal tests, designs and they are very very happy. I hope to start this as soon as possible, by May. This long process has been a blessing, because we've had two years of full pre-production. I have gotten to be involved in every meeting and key decision, during part of The Hobbit process and post-Hobbit.
Do you think the marketplace is ready for a darker, Guillermo del Toro influenced Pinocchio? What do you think of his take on it?