VOTD: 'The Lost Thing,' An Oscar-Nominated Animated Short Film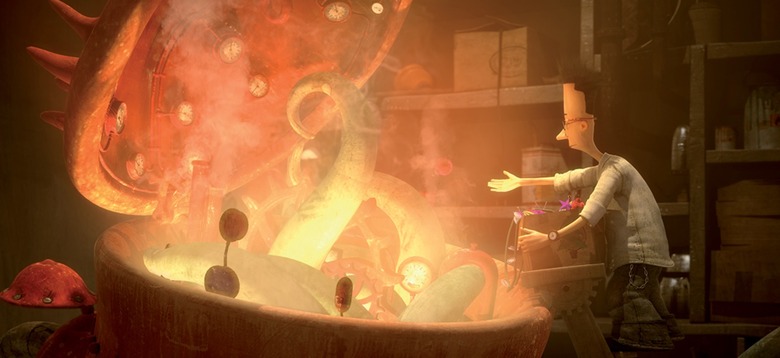 Today's VOTD is a visual treat that'll appeal to children and grown-ups alike. The Lost Thing, written by Shaun Tan and co-directed by Tan and Andrew Ruhemann (executive producer, My Kid Could Paint That), is a beautifully animated short about a boy and the friendly, uh, tentacled machine thing he finds on the beach. The film has been nominated for an Academy Award. Watch the full 15-minute film after the jump.
[via Dailymotion]
The short is based on an award-winning children's book of the same title, also by Tan. According to an article by One Perth, The Lost Thing film "was produced over eight years from 2002 and features a mix of computer animated and hand-painted elements."
I haven't seen the other Oscar-nominated animated shorts yet, so I can't say how this compares to others in its category. However, I think it holds up on its own quite well. Visually, it's absolutely gorgeous — I'm in love with the warm, whimsical images and the quirky-quaint style. The plot is pretty typical, and goes exactly where you'd expect, but the boy and the lost thing are drawn with enough detail and feeling that the film still managed to surprise and delight me. Neither Tan nor Ruhemann seem to have much experience directing, but I look forward to seeing more from them.
Official synopsis:
A boy discovers a bizarre looking creature while out collecting bottle tops at the beach. Realising it is lost, he tries to find out who owns it or where it belongs, but is met with indifference from everyone else, who barely notice its presence, each unwilling to entertain this uninvited interruption to their day to day lives. For reasons he does not explain, the boy empathises with the creature, and sets out to find a 'place' for it.