'Thurgood' Trailer, Starring Laurence Fishburne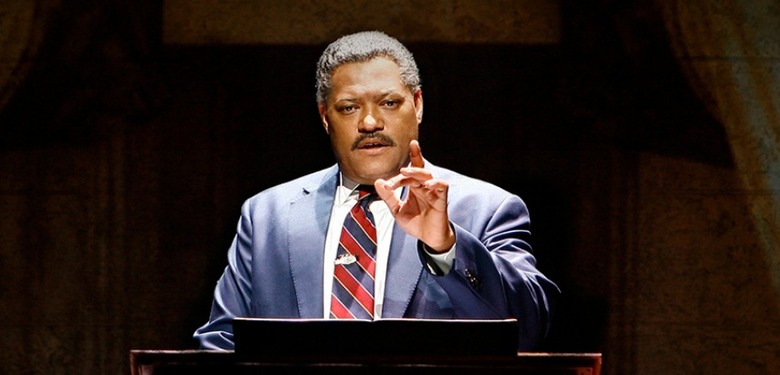 HBO Films is on a roll today. Earlier today we showed you the trailer for Cinema Verite, due out in April. Now we have a 42-second trailer for Thurgood, starring Laurence Fishburne. Thurgood will air February 24th on HBO in honor of Black History Month. (It occurs to me now that Thurgood is almost as distinctive a first name as Madonna — I immediately, and correctly, assumed the title was referring to Supreme Court Justice Marshall, and I bet you did too.) Check out the trailer and official synopsis after the jump.
HBO Films' Thurgood is actually a recording of a one-man play by the same title, filmed in front of a live audience at the Kennedy Center's Eisenhower Theater. The show, a rambling first-person narrative about the man who won Brown v. Board of Education, debuted at the Booth Theater in Broadway in April 2008 with Fishburne in the title role. It marked the playwriting debut of film and television writer/director (and The Thin Red Line producer) George Stevens, Jr.
When the play first opened, the New York Times called it "essentially an opportunity to watch a movie star deliver a history lecture," but went on to praise Fishburne's performance. Based on the trailer, I'd say this HBO presentation will be more or less the same deal. Watching an old man tell stories about his life doesn't sound all that thrilling in theory, and is bound to be a bit dry in practice as well. But Fishburne is a compelling enough actor to pull it off. It also helps that Marshall's real-life story is exciting and inspiring enough without any embellishment.
HBO Films has the official synopsis on their website:
Told in the first person by Fishburne in the role of Marshall, THURGOOD is a compelling present-tense narration revisiting the turning points in his life and career as he remembers them. From childhood stories of his family and home life in Baltimore, to his college days at Howard University School of Law in Washington, D.C., Marshall recollects his triumphs over adversity to pursue a successful career in the judicial system fighting for human rights. Establishing benchmarks in Civil Rights advancement, Marshall tried the historic case of Brown vs. Board of Education before the Supreme Court, successfully challenging the unconsitutional segregation of black and white students in public schools. His achievements eventually led him to become the first African-American to serve as a Supreme Court Justice.
Discuss: Do you plan to watch Thurgood, or are you just going to sit there and make lame jokes about how if you wanted to watch and old fogey tell stories about his past, you'd go visit your grandfather? Young people these days.