Scorsese And DiCaprio Will Make 'The Wolf Of Wall Street,' But Scorsese Will Make 'Silence' First [UPDATED]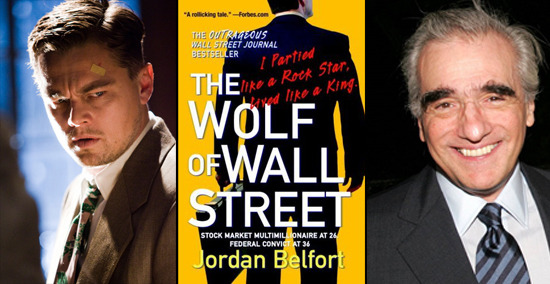 UPDATE: OK, a couple new things have come up. Yes, Martin Scorsese and Leonardo DiCaprio will make The Wolf of Wall Street, and financing details and the shoot date will be revealed at Cannes. But it's not the director's next movie. THR reports and The Playlist confirms that will be Silence, aka Mr. Scorsese's adaptation of the Shusaku Endo novel and the 'Jesuit drama' that the director has talked about doing for several years. Daniel Day-Lewis, Benicio Del Toro and Gael Garcia Bernal have all been attached in the past, but we'll have to wait and see what happens. Daniel Day-Lewis is set for Steven Spielberg's Lincoln, which is meant to shoot this fall. Theoretically, he could go right from Silence to Lincoln, but we'll have to see what schedules get drawn up. Original article follows.
Martin Scorsese has been busy in the past couple years: after Shutter Island he directed the pilot for Boardwalk Empire and then went into making his first 3D film, Hugo Cabret. And while the latter is a big production it seemed to be Boardwalk Empire that really energized him. Based on his comments afterward, working fast and relatively cheap was a creative shot in the arm.
So this news makes a lot of sense: Martin Scorsese is reportedly once again set to direct Leonardo DiCaprio in an adaptation of the real-life financial malfeasance story The Wolf of Wall Street, and this time the film is set up as an indie rather than a studio picture.
Let's back up to March of last year, just after the Boardwalk Empire pilot was shot. Mr. Scorsese said then,
I did that, shot it in 30 days. For me, it's like a new lease on life. I'm trying to get myself to a point where I can work faster and cheaper.
And a few months later he began Hugo Cabret, which seems to have been a very trying, technical shoot because of the 3D aspect. And while other films seemed like possible follow-ups (The Irishman, for one) the most obvious way to read the news about The Wolf of Wall Street is that it makes a good choice now because it will allow him to indulge that rediscovered fondness for working quickly.
And The Wolf of Wall Street script is by Boardwalk Empire producer Terence Winter, so this would continue their partnership. Vulture says the film has left Warner Bros., where it was set up last year with Ridley Scott as a possible director. (Martin Scorsese had been attached before that, prior to Shutter Island, so this isn't the first time the project has changed hands.) Leonardo DiCaprio's manager has reportedly secured financing for the film outside the studio, and it looks as if the film could shoot this summer — "as early as June" — which would be an incredible turnaround.
I find this news tremendously exciting. I've enjoyed the Scorsese/DiCaprio partnership and think it reached a new level with Shutter Island. More important, I absolutely love the idea of the director working fast once again, especially if he's that energized by doing so.
Here's the book synopsis:
Belfort, who founded one of the first and largest chop shop brokerage firms in 1987, was banned from the securities business for life by 1994, and later went to jail for fraud and money-laundering, delivers a memoir that reads like fiction. It covers his decade of success with straightforward accounts of how he worked with managers of obscure companies to acquire large amounts of stock with minimal public disclosure, then pumped up the price and sold it, so he and the insiders made large profits while public investors usually lost. Profits were laundered through purchase of legitimate businesses and cash deposits in Swiss banks. There is only brief mention of Belfort's life before Wall Street or events since 1997. The book's main topic is the vast amount of sex, drugs and risky physical behavior Belfort managed to survive. As might be expected in the autobiography of a veteran con man with movie rights already sold, it's hard to know how much to believe.