Farrelly Brothers Want Cher To Play A Nun In 'The Three Stooges'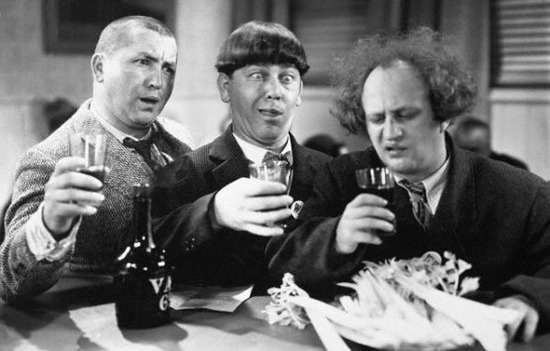 Earlier this week we heard a great audio recording of Peter and Bobby Farrelly talking Badass Digest through a comic sequence in their planned big screen version of The Three Stooges. The action involved a nun, and now there is a possible actress for the role: the Farrellys want Cher. In addition, they say (still) that Benicio del Toro, who was once cast as Moe, isn't out of the running just yet.
The LA Times talked to the directors, who praised Cher as they talked about wanting her for the role. ("Cher is just the coolest chick ever. It's hard to describe. You meet a lot of celebrities in our business. We're not cowed by many of them. But Cher is bawdy, she's fun, she's cool, she's lived a life, she's got experience, she's humble.") She's not cast yet, but it's
The film is set to shoot within the next couple months, likely here in Atlanta where the brothers shot Hall Pass, but the three core cast members are yet to be announced. When the project moved to Fox a March shoot was penciled in, but it looks like casting has pushed that date back.
They say that Jim Carrey, once set to be Curly, dropped out without even calling them (ouch) but that Benicio Del Toro is still being considered. And there were rumors of Andy Samberg and Johnny Knoxville filling other Stooge shoes, and they're not ruling those guys out, either.
If you missed other recent comments on the film, the brothers say that it is a straight-up Stooges movie:
This isn't a Farrelly version of The Three Stooges. This is The Three Stooges. And, it's not a biopic, by the way. We've written three new episodes. The movie is actually three episodes that go back to back to back. Each one picks up where the other one left off. We want you to look at it and say, "It's Mo, Larry and Curly!," so we have very high standards on this route.
The brothers also acknowledge the challenge of making new Stooges stories that are set in the present day featuring new actors but the same classic gags and tone. (Their movie is written as three connected half-hour shorts.)
The Stooges themselves, we can't beat. But I think we can beat the material. And it's because they didn't have a budget. We don't have a huge budget, but they didn't have anything. They were working on nothing. They were creating something out of thin air to put in the present day and put in the real world; updating it allows us to be better than they were.
What it comes down to is this: The Three Stooges, strange as it may seem, is their passion project. Says Peter Farrelly,
I literally lie in bed thinking about every single shot. I've never been more prepared to do a movie in my life.