VOTD: 'The Backwater Gospel' Is A Strange, Violent Animated Western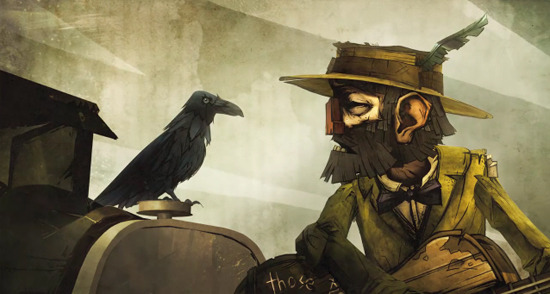 It's probably an easier time to get people to look at a Western in the wake of True Grit, but if your Western has animation as great-looking as what's in The Backwater Gospel, it's probably an easy sell to begin with. This story about fear of God and a town awaiting a visit from The Undertaker is a project from The Animation Workshop, and it has some stellar design and animation. Check it out after the break.
The animation is definitely more of a selling point here than the story, it's a pretty big selling point. Here's the plot description from the film's Vimeo page:
As long as anyone can remember, the coming of The Undertaker has meant the coming of death. Until one day the grim promise fails and tension builds as the God fearing townsfolk of Backwater wait for someone to die.
By: Bo Mathorne, Tue T. Sørensen, Arthur Gil Larsen, Rie C. Nymand, Mads Simonsen, Thomas H. Grønlund, Esben Jacob Sloth, Martin Holm-GrevyBo Mathorne – Director
Arthur Gil Larsen – Animation Lead
Mads Simonsen – Technical director
Thomas Grønlund – Animator
Rie Nymand – Animator
Esben Sloth – Art Director
Martin Holm-Grevy – Environment lead
Tue Toft Sørensen – Animator
Music composed and performed by:
Sons of Perdition
Voice actors:
The Tramp: Zebulon Whatley
The Minister: Lucien Dodge
Bubba: Phillip Sacramento
Towns people: Laura Post
Thanks to my friend Luke for sending this over this morning.