'Cinema Verite' Trailer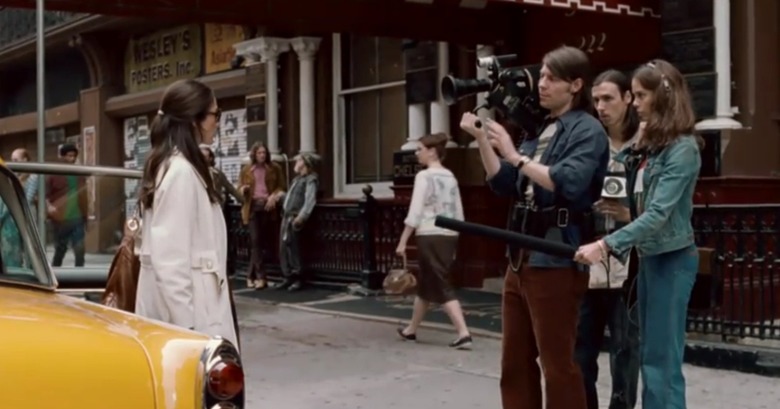 Reality stars are a dime a dozen these days, but HBO Films' Cinema Verite takes us back to a time when that wasn't the case. The film dramatizes the behind-the-scenes action surrounding PBS' 1973 documentary series An American Family, which HBO's marketing team is referring to the first reality show. The series followed a Santa Barbara family called the Louds as parents Pat and Bill filed for divorce.
Cinema Verite stars Diane Lane and Tim Robbins as Pat and Bill, Thomas Dekker (Terminator: The Sarah Connor Chronicles) as son Lance, and James Gandolfini as producer Craig Gilbert. It was directed by husband and wife team Shari Springer Berman and Robert Pulcini (American Splendor, Wanderlust), and written by David Seltzer (1976's The Omen). Pretty good pedigree, right? Watch the trailer and read the official synopsis after the jump.
I've been curious about this project since the cast was first announced, and after watching this trailer I'm sold. The trailer promises a thoughtful perspective on reality television, combined with drama aplenty. And with that cast and that crew, I think I can trust I won't be disappointed.
An American Family was originally conceived of by creator Gilbert as a response to the idealized families portrayed on shows like The Brady Bunch. It's considered notable for its unusually honest (for the time) portrayal of familial issues like divorce and especially homosexuality.
Here's the offical synopsis for Cinema Verite, from the HBO Films website:
"An American Family" was a total departure from the television shows of the time when it aired in 1973, and brought public scrutiny to a family unprepared for the consequences. It put the Louds in the spotlight as the parents (Diane Lane, Tim Robbins) struggled with their marriage while raising their children. In particular, Pat was criticized for her support of her openly gay son Lance (Thomas Dekker) at a time when homosexuality was rarely represented on television.
Cinema Verite gives a behind-the-scenes look at how the original PBS series was created by filmmaker Craig Gilbert (James Gandolfini). While he aimed to have an impact on culture, he also felt that the family's struggles were relatable to many Americans in a way that the Brady Bunch and the Partridge Family were not. The crew of Alan and Susan Raymond (Patrick Fugit, Shanna Collins) spent seven months filming the family in 1971 and were often at odds with Gilbert about what content was appropriate to film.