Italian 'Dylan Dog: Dead Of Night' Trailer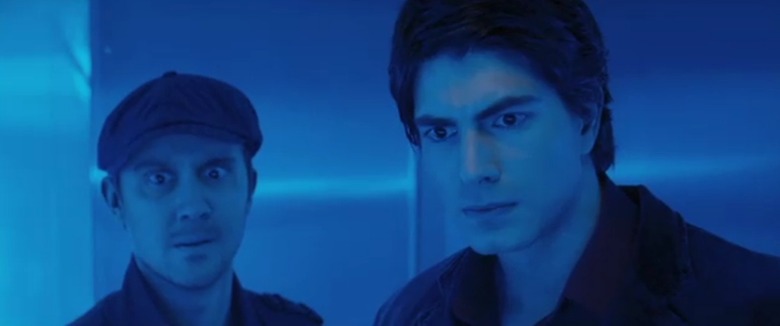 It's been almost three years since we first reported that Brandon Routh (Superman Returns) had been cast as the title character in Dylan Dog: Dead of Night, with TMNT director Kevin Munroe set to helm. The good news is that the film will finally be released on March 16, 2011. The bad news is that the good news only applies if you're Italian. Although the project seems to be getting a fair amount of attention in Italy, there's been very little hype or buzz in the US. Dylan Dog has yet to be picked up by an American distributor.
Both the film and the original comic, titled Dylan Dog, center around a paranormal investigator whose work brings him into contact with all manner of supernatural monsters. Italian distributor MovieMax has recently released a new trailer (dubbed in Italian). Check it out after the jump.
[via BadTaste.it]
When I watched this trailer, my immediate thought was "Buffy meets Constantine." How Dylan Dog will actually compare to either of those is tough to guess at this point. On the one hand, it's a fun premise, and the cast is appealing. Routh can be seriously charismatic — his small part in Scott Pilgrim vs. The World was one of the highlights of the movie. We also get Taye Diggs as a vampire (yes please), Peter Stormare and Kurt Angle as werewolves, and Sam Huntington (Superman Returns' Jimmy Olsen) as a zombie sidekick. On the other hand, mixing horror and comedy can be tricky, and parts of this trailer look discouragingly cheesy. (If you had trouble getting past the language barrier, perhaps this previously released English-language trailer will help.)
There's also the fact that the film has changed some key details from the source material. Assuming Italian geeks function much the same way as American geeks, this seems like a pretty good way to inspire grumbling. The film adaptation is set in New Orleans, not London, and the book's comic relief Groucho has been replaced by Huntington's Marcus. I'm also under the impression that the book is somewhat darker, or at least less wacky, than the tone adopted by the movie trailer.
The original Dylan Dog comic launched in Italy in 1986, and quickly became a huge success. Italian philosopher Umberto Eco has been quoted as saying, "I can read the Bible, Homer, or Dylan Dog for several days without being bored." Stateside, Dark Horse Comics has been printing English-language versions since 1999, including a 680-page collection that was released in 2009. Although this is technically Dylan's first time on the big screen, a 1994 film called Dellamorte Dellamore — retitled Cemetery Man in the States — was based on another character from the same universe. Dellamorte starred Rupert Everett, who was, in fact, the inspiration for the original Dylan's physical appearance.
What do you think of the trailer? Would you watch this film if it were released in the US, or would you rather just watch Buffy again? And will Brandon Routh ever catch a break?