Michelle Pfeiffer In Talks For 'Dark Shadows,' Helena Bonham Carter Possibly Joining, Too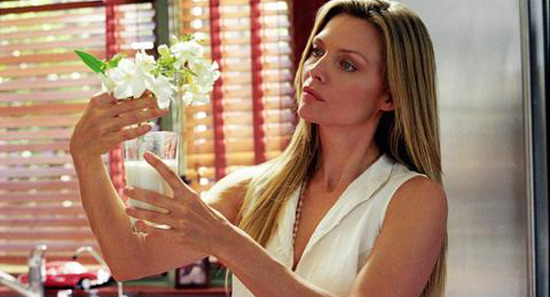 Tim Burton may have found his Elizabeth Collins Stoddard. The director is quickly assembling the cast for a big-screen version of the '60s supernatural soap opera Dark Shadows, with Johnny Depp leading the cast as Barnabas Collins. Now he's got Michelle Pfeiffer — famous for many roles, but not least for playing Catwoman in Batman Returns — in talks to play Elizabeth Collins Stoddard, the matriarch of the family around which the soap was based.THR has the details, thin as they are. She's negotiating, and shooting starts in April, but she has to balance this gig with other roles: a small part in New Year's Eve (there are so many people in that film that all the parts are smallish) and a much bigger role in Alex Kurtzman's directorial debut Welcome to People.
And Deadline says Helena Bonham Carter is in line to play Dr. Julia Hoffman. I'd wondered which role she'd end up taking, as a Tim Burton movie without his wife is just slightly less likely at this point than a Tim Burton movie without Johnny Depp.
Dark Shadows also has Eva Green as Angelique, a witch who has a deep backstory with Barnabas Collins. Bella Heathcote will be Victoria Winters, employee and friend of Elizabeth Collins Stoddard, and Jackie Earle Haley is the con man who becomes a sort of Renfield to Barnabas. I have serious fatigue for the Depp/Burton/Carter team but have to admit this is quite a cast. Michelle Pfeiffer would make the film almost a must-see, especially if footage suggests that Tim Burton is able to bring out some of her old fire.