'There Will Be Blood' Composer Jonny Greenwood To Score 'We Need To Talk About Kevin'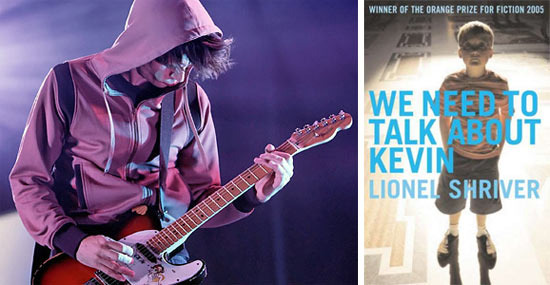 The name Lynne Ramsay may not ring any bells right now, but the talent she's been surrounding herself with for her next project indicates that this could change very soon. Ramsay wrote and is currently in the midst of directing We Need To Talk About Kevin, based on the novel by Lionel Shriver about a troubled husband and wife dealing with the fact that their son perpetrated a murderous school shooting. Tilda Swinton has been on board since the beginning, and John C. Reilly later joined as well.
If that casting wasn't enough to entice you, perhaps this will do the trick. Radiohead member Jonny Greenwood will be composing the score to the picture, making this his first English feature film score since Paul Thomas Anderson's There Will Be Blood. Learn more after the break.
News of Greenwood's involvement comes from The Hollywood Reporter, and it has me thrilled. The soundtrack for There Will Be Blood was by turns haunting and meditative and aggressively loony; Greenwood's musical abilities would be similarly suited here, perfect for underscoring both the grieving of the parents and the more sinister elements relating to the massacre itself. My only worry is that the music could end up overwhelming the material, which was a complaint some held for There Will Be Blood. That's not a complaint I share, but I can see there being instances where such a brazen approach wouldn't work, and a film about parents coping with their child being a murderer presents plenty of them. The risk of veering into overwrought theatrics is awfully high.
We Need To Talk About Kevin will mark Greenwood's fourth film score, his others being the Japanese drama Norwegian Wood and the British documentary Bodysong.
Tilda Swinton and John C. Reilly are of course playing the wife and estranged husband, and Ezra Miller (Californication, City Island) is playing their troubled son. Lynne Ramsay has directed several films previously, two of which — Ratcatcher and Morvern Callar — received strong critical acclaim. Ratcatcher is available on Netflix Watch Instantly.
Here's a plot synopsis of the book:
Two years ago, Eva Khatchadourian's son, Kevin, murdered seven of his fellow high-school students, a cafeteria worker, and a popular algebra teacher. Because he was only fifteen at the time of the killings, he received a lenient sentence and is now in a prison for young offenders in upstate New York. Telling the story of Kevin's upbringing, Eva addresses herself to her estranged husband through a series of letters. Fearing that her own shortcomings may have shaped what her son has become, she confesses to a deep, long-standing ambivalence about both motherhood in general and Kevin in particular. How much is her fault? Lionel Shriver tells a compelling, absorbing, and resonant story while framing these horrifying tableaux of teenage carnage as metaphors for the larger tragedy – the tragedy of a country where everything works, nobody starves, and anything can be bought but a sense of purpose.