Rumor: Will DJ Caruso Direct 'Preacher'?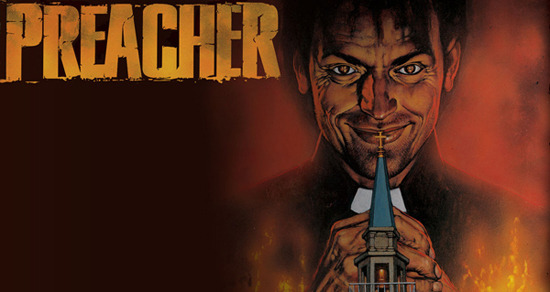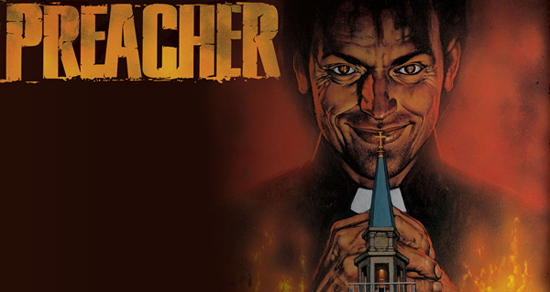 [Update: Kevin Smith has corrected some of our history regarding Preacher's development. See below for details. Original article follows.]
It has been a while since we've gotten a solid update on the big screen adaptation of the beloved Vertigo comic book series Preacher. A couple years back, Columbia Pictures picked up the rights and hired American Beauty/Road to Perdition director Sam Mendes to helm the project, but the filmmaker dropped out to pursue Bond. John August (Go, Big Fish) penned the script which producer Neil Moretz has said will be the first of a series of films.
In September producer Moretz told Total Film Magazine that "Another unnamed director has apparently signed on." We haven't had any leads on this until today. One of my well placed Hollywood spys informs me that Disturbia/Eagle Eye helmer DJ Caruso is in talks to direct a big screen adaptation of Preacher. This is said to be all dependent on the box office of his latest film, I Am Number Four. I have not been able to double source this rumor, but I thought I'd throw it out there to get your thoughts?
They are aiming for an R-rating to make the film adaptation. Moretz has said that John August's script is "a really faithful adaptation but made it probably more accessible to a broader audience."
Joe Carnahan was interested in the job and there were unconfirmed rumors that Darren Aronofsky was linked to the project.
Preacher has a long history of false starts, despite having a loyal following among geek filmmakers. Originally set-up at Kevin Smith's View Askew with a $25 million budget and James Marsden attached as the title character, the project fell into limbo and later found light as an HBO television series helmed by Mark Steven Johnson (fans were not happy about this one). When the one-hour series was first announced in November 2006, Pretty in Pink director Howard Deutch was named to helm the pilot episode. Robert Rodriguez was said to be one of the "many top-shelf directors interested in" directing an episode of the series. I have yet to read the series, but from what I understand, most fans saw it more as a television mini-series than a big screen movie.
[Update: Kevin Smith tweeted the following in response to the above: PRESS CORRECTION: @slashfilm - Preacher was never "set up" at View Askew with a $25mil budget. At one point, Garth & Steve grabbed a beer & burger with me & @SMosier at the Tribeca Grill, where we said "Use our names for whatever our names are worth." Our names were worth bupkis. @SMosier & I pitched it to BobWeinstein, who said "I don't get it. This is a comic book? The Crow I get. This? No." And that was the extent of our involvement with Preacher: a beer & burger & a no from Bob. It was Rachel Talalay's flick; me & @SMosier were just fans of the book & the creative team of Garth & Steve. James Marsden was never involved during this period (which wasn't even a period, so much as a three day stretch). So strange to watch a fiction become fact. Happy to have Twitter as a means to correct misinformation.]
The official plot synopsis from the graphic novel follows: "Here's a book guaranteed to offend a bunch of people, not only because of its profuse profanity and graphic violence, but because it's the epitome of iconoclasm. Like a brutal accident, you can't watch but you can't turn away. The story follows an ex-preacher man, Jesse, who has become disgusted with God's abandoning of His responsibilities. So Jesse starts off into the wilds of Texas with his hitman girlfriend and new best friend (a vampire) to find God so that he can give Him a piece of his mind. Despite its superficial perversity, this book contains what may be the most moral character in mainstream comics. A cult hit in the making. Fans of Quentin Tarantino take note."
The 75 issue comic book series was created by writer Garth Ennis and artist Steve Dillon, and published between 1995 to 2000.