Peter Greenaway To Direct Romantic Comedy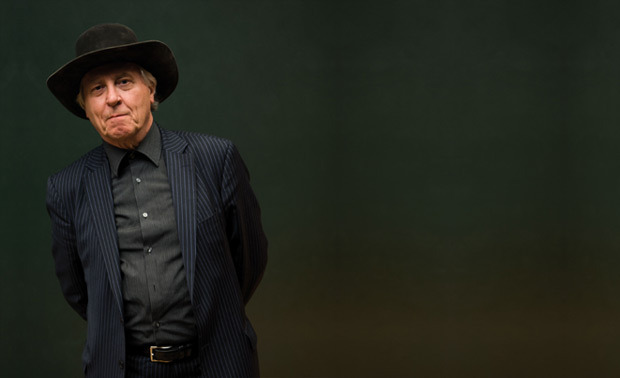 That headline is not a typo. Peter Greenaway, who is among the most art-oriented directors alive (Prospero's Books, The Cook, the Thief, His Wife & Her Lover) is set to write and direct his first romantic comedy. The film is called 4 Storms and 2 Babies, and is scheduled to shoot in Amsterdam later this year. Has the whole world gone crazy?
Variety says the film is "an unconventional love story about two men and a woman who becomes pregnant after a night of three-way sex with them."Whew! So 4 Storms and 2 Babies won't quite be The Proposal. In fact, this sounds very much like something Peter Greenaway might do. It actually sounds like something the Peter Greenaway of 1988 might do. That's kind of striking, since the director has of late been more interested in films that are either more conceptual art than narrative (The Tulse Luper Suitcases) or rooted in centuries-old art more than anything else. (See below.)
Granted, if you want to be generous with the definition, you could almost call early Greenaway features like The Draughtsman's Contract and Drowning by Numbers romantic comedies, and even apply the tag to A Zed and Two Naughts if you really wanted to stretch it. Producer Mike Downey even says the tone of this one is a bit like Drowning by Numbers, and says of the new film, "the premise is both simple and strong: Three people with different needs and beliefs all of whom are able to help the others on a journey of self discovery."
Before he makes 4 Storms and 2 Babies, Mr. Greenaway will shoot Goltzius and the Pelican Company, which is the second film in his 'Dutch Masters' series. (The first film was Nightwatching.) Here's a synopsis of Goltzius:
GOLTZIUS AND THE PELICAN COMPANY is about Hendrik Goltzius, a late 16th century Dutch printer and engraver of erotic prints. He seduces the Margrave of Alsace into paying for a printing press to make and publish illustrated books. Goltzius promises him an extraordinary book of pictures of the Old Testament Biblical stories. Erotic tales of Lot and his daughters, David and Bathsheba, Samson and Delilah and John the Baptist and Salome. To tempt the Margrave further, Goltzius and his printing company will offer to perform dramatisations of these erotic stories for his court.
And this is worth noting: at the end of Variety's report is a mention that the company behind 4 Storms and 2 Babies is also making a film about "the underbelly of child prostitution in the capital of the Philippines." The name of the film? Snow White. Oh, boy, that's going to confuse some people, especially when all those other Snow White movies start hitting in 2012.