Gore Verbinski Talks 'The Lone Ranger' And 'Bioshock'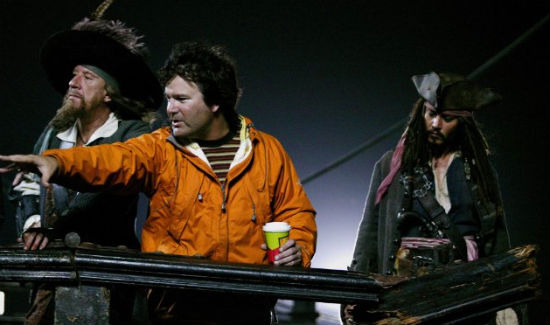 Last we heard about Gore Verbinski's fifth team up with Johnny Depp, The Lone Ranger, Depp said the film was a "very difference approach" to the traditional Lone Ranger/Tonto relationship. Now Verbinski, who'll direct the Disney film, has come out and shed a little light on that statement and also commented on why he couldn't get a film version of the video game Bioshock made. Read his quotes and more after the jump.
Verbinski was promoting his latest Depp project (after three Pirates of the Caribbean movies) Rango when he sat down with the guys at Coming Soon. In regards to The Lone Ranger, he had this to say about the story:
It's sort of Don Quixote told from Sancho Panza's point of view.
That means, as Depp's previous quote and the fact that you can't cast Johnny Depp as a supporting character suggests, Tonto is most likely the focal point even though it's called The Lone Ranger. But when will the film come together?
It's coming along really great...[It] wouldn't shoot until next year, probably, because Johnny's doing Dark Shadows.
Dark Shadows, directed by Tim Burton, was supposed to start shooting in April so either that's a very long shoot, Depp is planning to take some well-deserved time off, or something else wrong. Either way, Verbinski certainly has some time on his hands. Will he make The Lone Ranger next or do something in the mean time?
I don't know, honestly. I have quite a few options. If you ask me that question in three weeks, I can probably answer it, but there's too many things that are conflicting schedules and I still have to factor availabilities and everything else. So whatever I tell you will be wrong in two days.
One thing he won't be doing anymore is Bioshock, a project video game fans were surely excited about and – from what Verbinski says – he was definitely the right man for the job. He was planning on doing it right but just couldn't get the funding:
I couldn't really get past anybody that would spend the money that it would take to do it and keep an R rating. Alternately, I wasn't really interested in pursuing a PG-13 version. Because the R rating is inherent. Little Sisters and injections and the whole thing. I just wanted to really, really make it a movie where, four days later, you're still shivering and going, 'Jesus Christ!'... It's a movie that has to be really, really scary, but you also have to create a whole underwater world, so the price tag is high. We just didn't have any takers on an R-rated movie with that price tag.
Which, if we're being honest, makes sense. The game is about an underwater world where your character sucks the life force out of dead little girls to create energy to blow people up. So, yeah, kind of a tough sell.
Your thoughts on Verbinski's quotes? Will he be doing Lone Ranger next? Do you wish he could have done Bioshock?