Colin Firth And Nicole Kidman In Talks For Park Chan-Wook's 'Stoker'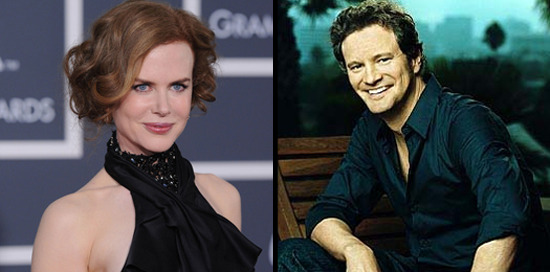 Things are looking good for Stoker, the first English-language film from  Oldboy and Thirst director Park Chan-wook. The director had already got Mia Waskiowska to play a key role. Now he's got Colin Firth and Nicole Kidman in talks as well.
The LA Times says that Mr. Firth is negotiating the role in Stoker, which would likely shoot before Gambit, the remake of a '60s romantic heist film scripted by the Coen Brothers and also set to star Cameron Diaz.
This film, written by Wentworth Miller, is about a teenager who, after the death of her father, must deal with a mysterious uncle who returns to spend time with the family. Mia Wasikowska is the teen, India Stoker, and Nicole Kidman would be her mother, with Colin Firth playing the uncle.
If the film sounds rather Hitchcockian, that's intentional. Wentworth Miller wrote with Shadow of a Doubt at least partially in mind, and he said last year "there's a leaping-off point in Stoker that was directly inspired by Shadow of a Doubt. Also, the character name is Uncle Charlie and the prequel's called Uncle Charlie, so that's a tip of the hat." That prequel he mentions is his prequel to Stoker, so if this film goes well there is already a potential follow-up.
I had expected Stoker to be a slightly more low-key English debut from Park Chan-wook, but I'm just as happy to see that he's going all out. If Colin Firth wins the Best Actor Oscar later this month, as many expect he will, there will be even more attention on this movie. Regardless, he's getting much more into the public view after years of being an indie and arthouse stalwart. And Nicole Kidman can turn in a good performance when called upon to do so, but could use a picture with some mainstream appeal to revitalize her persona somewhat. This could be the one.