Cast Of Characters Announced For Star Tours 2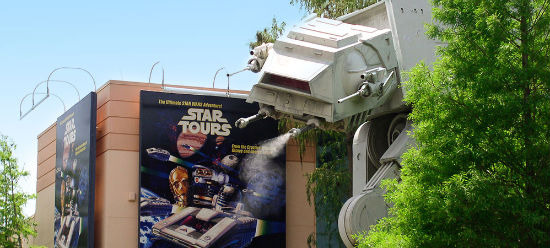 I know I'm not the only one incredibly excited for the new Star Tours to open up this May. Peter has been all over it, posting videos, photos and more and now Disney has announced the full list of characters who will appear before, and during, the brand new version of the ride. How they're going to fit all of these people into just a few minutes is beyond me, but it's going to be exciting to find out. The updated ride opens on May 10th 2011 in Disneyland in Anaheim and May 20th 2011 in Walt Disney World in Orlando. Check out the character list, and more, after the jump.
According to the DisneyParks Blog, here's the list of characters who will be appearing on the new Star Tours. Some have already been announced but others have not.
R2-D2
C-3PO
Ace (AC-38) (New character, the pilot)
Spokesbot Aly San San (New character, voiced by Allison Janney)
Darth Vader
Stormtroopers
Skytroopers (New characters)
Boba Fett
Yoda
Admiral Ackbar
Princess Leia
Chewbacca
The ride takes place between Episodes III and IV so the addition of some of these characters make sense. Others – like Ackbar, Leia and Yoda – are a little more puzzling. Ackbar doesn't become canon for a few more years, Leia was just a Princess on Alderaan and Yoda was a hermit on Dagobah. Maybe Ackbar and Leia are beginning the Rebellion and Yoda is doing something with the Force, but it's going to be interesting to see how they all fit in.
For information on the 3D ride, which will have a score by Michael Giacchino, 54 different possible scenarios to ride through and much more, head over to this post or this post. And definitely watch this video, which will play outside as you wait for the ride.
As much as Star Wars is a controversial topic among movie fans these days, we all still have an affinity for it when it's done right and Star Tours has to be done right. It'll be at Disneyland and Walt Disney World for decades and have to entertain millions and millions of people. If it stinks in anyway, it's going to be magnified.
You can be sure that when this thing opens in the next few months, we'll have full reports, possibly video blogs and interviews and whatever else we can get our hands on.