Entertainment Tonight Visits Set Of 'The Hangover Part II'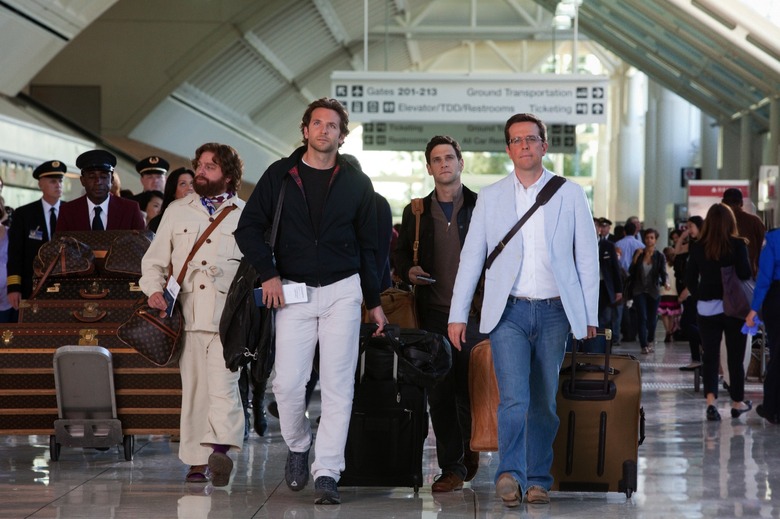 In a summer that's filled with giant robots and superheroes, Warner Brothers is hoping we all just want to get lost in Thailand. The Hangover Part II is scheduled for release May 26 and it features the original Wolf Pack -  Doug (Justin Bartha), Stu (Ed Helms), Phil (Bradley Cooper) and Alan (Zack Galifanakis) – taking a trip to Bangkok to celebrate Stu's marriage to Jamie Chung. Then, as usual, things take a turn for the worst. Thanks to a bunch of set photos and cameo announcements, we've slowly been able to piece together some of the night and now with this video from Entertainment Tonight, we get our first look at footage from the Todd Phillips-directed movie. Check it out and more after the jump.
Much like with Transformers: Dark of the Moon and Sherlock Holmes 2, Entertainment Tonight was the first on the set of this blockbuster in the making. Here's the video:
ET also provided a few quotes that didn't make the above video.
"The first one felt like a gritty, dirty — the dark side of Vegas during the day," Cooper said to ET. "[This one's] a grand movie. This is the gritty, dirty reality of a city that's populated by, I think, 7 million people, so it's a lot different."
You definitely get a sense of grandeur with that simple video. A ton of different locations, big stunts, there was certainly a whole bunch of additional money to spend with this sequel to the highest grossing R-rated comedy of all time.
"I think people will be surprised at how gritty and crazy this movie's going to look," said Helms.
And Galifanakis described the location in a way only the deadpan comedian could: "I don't really want to go back because I find that I might be bored when I go back to the United States," he said. "This is, like, the most un-boring place. I just love it."
Do you think The Hangover Part II is going to live up to the heavy expectations set by the first one?