Arnold Schwarzenegger Now Seriously Considering Acting Offers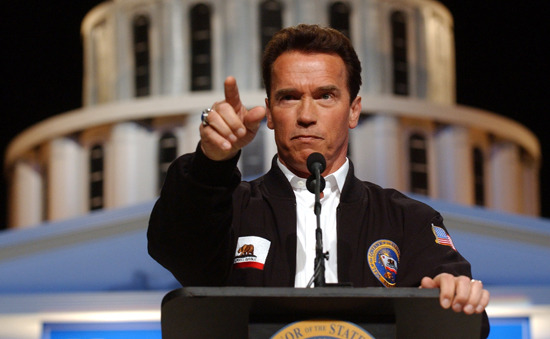 A month ago, an Austrian outlet ran an interview with Arnold Schwarzenegger in which the now-former Governor talked about looking at a few different scripts. There were some doubts about the reliability of that interview,  but now an additional comment directly from the actor confirms that he is on his way back to the screen.
Mr. Schwarzenegger said via Twitter,
Exciting news. My friends at CAA have been asking me for 7 years when they can take offers seriously. Gave them the green light today.
That's all we've got right now — no specific mention of scripts or possible roles. No mention of With Wings As Eagles, the WWII script by Randall Wallace that would see him cast as a Nazi officer who grows a conscience when ordered to execute thousands of POWs. Hopefully that prior interview was reliably related, because he said one thing that made a lot of sense:
In the future I have to adapt my roles to my age. Clint Eastwood also has done it in the same way. Extreme fighting or shooting is not possible anymore. I want to be more encouraged as an actor and I believe that I can manage this challenge. I am like a sponge, which is absorbing all the knowledge and always be willing to learn all new things.