'Hoodwinked Too! Hood Vs. Evil' Trailer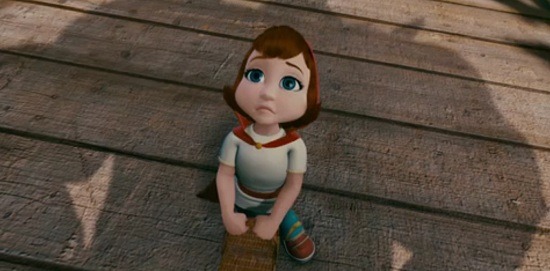 After months of bitter legal dispute with production company Kanbar Entertainment, The Weinstein Co. has finally released the first trailer for Hoodwinked Too! Hood vs. Evil– only a year and change after the film's original release date of January 15, 2010. The upcoming film is a sequel to 2006's moderate hit Hoodwinked, a modern CGI fairy tale along the lines of Shrek and Happily N'Ever After. The original Hoodwinked was a retelling of Red Riding Hood, and this time around they're taking a stab at reinterpreting Hansel and Gretel. Check out the trailer after the jump.
CGI remains one corner of cinema that's tough for smaller or indie productions to crack — those tens (or was it hundreds?) of thousands of individual hairs on Linguini's head in Ratatouille don't come cheap. The first Hoodwinked was a solid entry into the ever-expanding "sassy modern fairy tale" genre, with a surprisingly clever script, but was undermined by its subpar animation. Based on the jerky, cheap-looking animation in this trailer, I'm guessing Hoodwinked Too! isn't going to be the one to break that trend, either. The fact that it's being released in 3D isn't making me feel any more confident about it.
On the other hand, the premise sounds enjoyable enough for a kids' film, especially if you liked the first one. Much of the cast has returned for this installment, including Glenn Close, Andy Dick, Patrick Warburton and Cory Edwards. Anne Hathaway, who voiced Red last time, has been replaced by Heroes star Hayden Panettiere. And SNL favorites Bill Hader and Amy Poehler round out the cast as children in distress Hansel and Gretel. If that sounds promising to you, go ahead and mark April 29, 2011 on your calendar.
What do you think? Did you see the first one, and if so, are you looking forward to the second — or will you miss Anne Hathaway too much?