POTD: The Cast Of 'The Hobbit'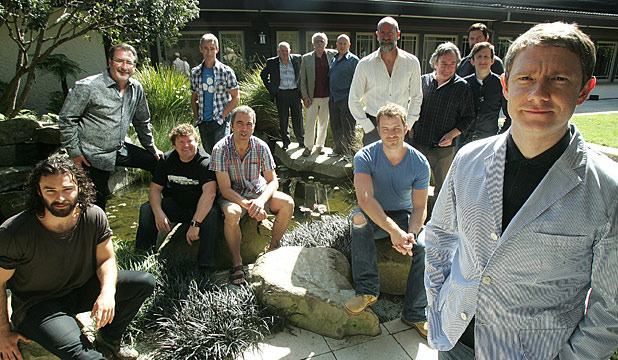 photo credit: Dominion PostThe Hobbit is set to begin shooting on March 21 at Stone Street Studios in New Zealand, but the entire cast assembled in the country about a month ago. Above is your first image of the collected actors. That's Martin Freeman (foreground right) and thirteen men of varying size who will, through practical and digital trickery, become the company of dwarves that hires Bilbo Baggins (Freeman) to be their burglar, the better to reclaim their ancestral treasure from the dragon Smaug.
The photo comes from a press conference (video here) announcing the beginning of production. Director Peter Jackson was unable to attend (and is therefore not pictured) as he is under 'house arrest' (his joke) while he recuperates from recent surgery. You can click the photo to enlarge slightly, and a rundown of the rest of the cast is after the break.
Reprising their roles (and not pictured) are Andy Serkis, Elijah Wood, Ian McKellen and Cate Blanchett. Sylvester McCoy plays Radagast the Brown, and Mikael Persbrandt is Beorn. The Dwarf Company includes:
Richard Armitage (MI-5, Captain America) as Thorin Oakenshield, leader of the Dwarves, whose grandfather ruled the Lonely Mountain settlement destroyed by Smaug.
Aidan Turner (Being Human) and Rob Kazinsky (EastEnders) as Kili and Fili, nephews of Thorin.
James Nesbitt (Bloody Sunday, Millions) as Bofur, "a disarmingly forthright, funny and occasionally brave Dwarf."
Adam Brown as Ori, "another of the Dwarf Company which sets out to reclaim the Lonely Mountain from the infamous dragon, Smaug."
Graham McTavish (Secretariat) as Dwalin, blue-bearded, first to arrive at the home of Bilbo Baggins.
John Callen as Oin, skillful fire-maker. Brother of Gloin.
Stephen Hunter (All Saints) as Bombur, the fat, sleepy and slow member of Thorin's company.
Mark Hadlow (King Kong) as Dori, strongest of the Dwarves, who carries Bilbo on his back at one point.
Peter Hambleton (The Strip) as Gloin, brother of Oin, initially suspicious of Bilbo's worth, but eventually convinced. Father of Gimli from The Lord of the Rings.
Jed Brophy (The Lord of the Rings) is the dwarf Nori
William Kircher is the dwarf Bifur
Ken Stott (Charlie Wilson's War) is the Dwarf Lord Balin