Christopher Nolan's 'Memento' Returns To Theaters February 17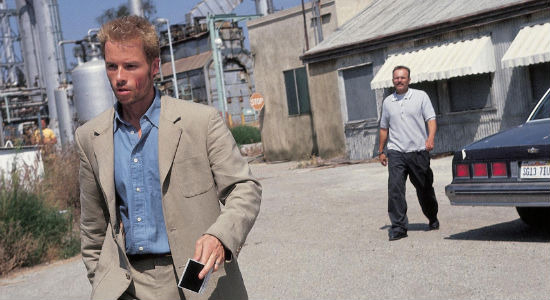 In one short decade, Christopher Nolan has gone from interesting new talent to one of our most revered filmmakers. Though he had made Following at the time, it really all started in 2001 with Memento, Nolan's backwards mystery about a man with short-term memory loss trying to figure out who killed his wife. Almost everything about the film – from its structure, to its dialogue and tattoos – became iconic and ended up being the spark that set Nolan's career on fire.
Memento is ten years old this year and not only will Lionsgate be releasing a 10th Anniversary Special Edition Blu-ray on February 22 with all new features, they're reopening the film in select theaters for one night only on February 17 complete with a Q&A featuring Nolan and Guillermo Del Toro that was recorded in Los Angeles last week. Hit the jump for more details and the theater list.
Here's the list of theaters playing the film:
City Cinemas Village East 7 – New York, NY
Studio Movie Grill Holcomb Bridge 9 –Alpharetta, GA (Atlanta area)
National Amusements Legacy Place 15 – Dedham, MA (Boston area)
Studio Movie Grill 9 – Arlington – Arlington, TX (Dallas area)
Studio Movie Grill City Center 8 – Houston, TX
Rave The Bridge 19 – Los Angeles, CA
UltraStar Mission Valley 7 – San Diego, CA
Rave Fairfax Corner 14 – Fairfax, VA (Washington DC area)
Cineplex Varsity 12 – Toronto, ON
Cineplex Scotiabank 9 – Vancouver, BC
If any additional theaters are announced, they'll be announced on the film's Facebook page which you can link to here.
And here's the original press release with all the info on the Blu-ray release, Q&A and even a poster contest.
Ten years after its powerful theatrical debut, the classic thriller Memento, released by Exclusive Media Group's Newmarket Films, celebrates its anniversary with ONE NIGHT ONLY screenings on February 17th, 2011, in 11 select digital cinemas across North America via Cinedigm Digital Cinema. These screenings will feature never-before-seen question and answer footage with award-winning writer and director, Christopher Nolan (Inception, The Dark Knight), speaking with acclaimed filmmaker Guillermo Del Toro. The film will be screened from an all-new, director-approved, high definition digital print. Suspenseful and unique, this daring and challenging Academy Award® nominated, movie launched Nolan's career.
Memento will also be released as a 10th Anniversary Special Edition Blu-ray, available from Lionsgate Home Entertainment on February 22nd. The Blu-ray comes packed with special features including a brand new featurette with the director discussing the legacy of the film, plus the director's script, audio commentary with Christopher Nolan, the original short story, "Anatomy of a Scene" and more!
The exclusive Q&A footage can be seen ONLY IN THEATRES and features a conversation between Nolan and Del Toro which was recorded during a sold out Memento screening on February 4th, 2011 at The American Cinematheque Egyptian Theatre in Los Angeles. Nolan shares his insights and opinions on the impact Memento had on his life and his overall body of work.
Demonstrating one of the many benefits of digital cinema, Cinedigm is holding a DIGITAL MOVIE POSTER contest. Fans will be provided with the art assets to create a unique poster for Memento, with the winners' art to be included on the big screen during the event on the 17th.
Are you Memento fans going to check this out?
Source: The Hollywood Reporter