Emma Watson And Logan Lerman To Star In 'The Perks Of Being A Wallflower'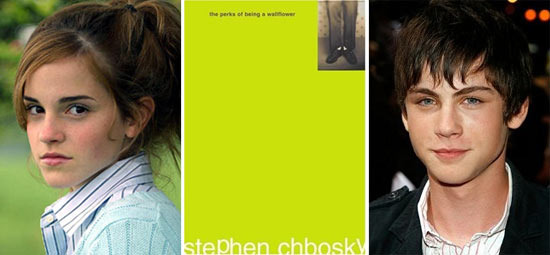 The final Harry Potter film hasn't even been released yet, but Emma Watson's post-Potter career is already proving to be — if you'll indulge my British compulsions a moment — a smashing success. Prior to now, the only acting she's done outside of the Harry Potter series is some voice work in The Tale of Despereaux and a TV movie in the UK titled Ballet Shoes. That'll soon change in the coming years though, as she's playing a vital role in the upcoming My Week With Marilyn (which stars Michelle Williams as Marilyn Monroe). She's also the top contender to take on the role of Claudia in Fox's adaptation of Catherine Fisher's teen fantasy/sci-fi novel Incarceron (which has Taylor Lautner attached to star).
Now there's another film to add to the list: The Perks of Being a Wallflower, based on Stephen Chbosky's novel of the same name. Learn more after the break.
Chbosky (screenwriter of Rent, and co-creator of TV's Jericho) wrote the screenplay based on his book, and will be stepping in as director as well. The film is "a coming of age story about 15-year-old Charlie, an endearing and naive outsider, coping with first love, the suicide of his best friend, and his own mental illness while struggling to find a group of people with whom he belongs." Logan Lerman (Gamer, 3:10 to Yuma) is playing Charlie, and Watson plays his first love. Both were said to be in talks to star in the film back in May, but now a press release from Summit has made the casting official.
Watson is the big news here, but as the latest in a steady string of leading roles for Lerman, he also deserves a nod. He may not have been cast as the new Spider-Man, but that's hardly a knock when you're at the forefront of two potential major movie franchises (The Three Musketeers, Percy Jackson & the Olympians: The Lightning Thief). Good for him.
Helping develop the project are Juno and Ghost World producers Lianne Halfon and Russell Smith, who are producing via their Mr. Mudd productions banner. John Malkovich (co-founder of Mr. Mudd) will executive produce. Production of the film commences this summer.
[via Variety]
Here's the plot synopsis of the book (which, for context purposes, consists of letters to an anonymous person, whom the protagonist does not know personally):
Standing on the fringes of life offers a unique perspective. But there comes a time to see what it looks like from the dance floor.
This haunting novel about the dilemma of passivity vs. passion marks the stunning debut of a provocative new voice in contemporary fiction: The Perks of Being a Wallflower. This is the story of what it's like to grow up in high school. More intimate than a diary, Charlie's letters are singular and unique, hilarious and devastating. We may not know where he lives. We may not know to whom he is writing. All we know is the world he shares. Caught between trying to live his life and trying to run from it puts him on a strange course through uncharted territory. The world of first dates and mixed tapes, family dramas and new friends. The world of sex, drugs, and The Rocky Horror Picture Show, when all one requires is that perfect song on that perfect drive to feel infinite. Through Charlie, Stephen Chbosky has created a deeply affecting coming-of-age story, a powerful novel that will spirit you back to those wild and poignant roller coaster days known as growing up.